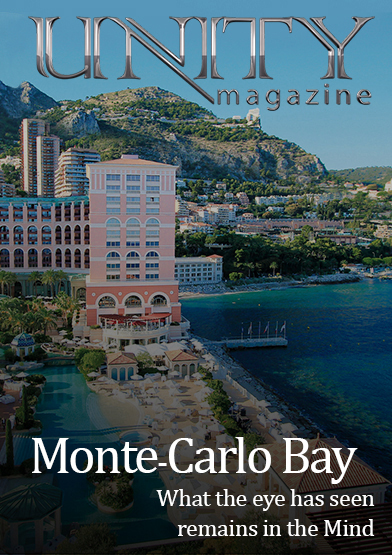 Lucy Self, Editor at Large, visits Monte Carlo Bay Hotel to discover true well-being.
The ultimate goal of a hotel architect is to create a chosen paradise, albeit an earthly one: a paradise that could appeal to all cultures, a brief escape whilst embracing the ferocious demands of the modern traveller. Every wise man understands that paradise should be passed through and not lived on a daily bases, else paradise found will ultimately be lost! So it is that the ultimate luxury hotel offers exactly that; Paradise Found.
There is a misguided misconception that Monte Carlo is inaccessible for mere mortals and is hallowed by the Gods of finance, luxury and wealth. Yet Monte Carlo Bay Hotel and Resort, now celebrating its 10th anniversary is not just a paradise but is also wonderfully accessible.
A unique development in Europe, the sandy bottomed lagoon meanders through the hotel gardens; waterfalls, terraces create optical harmony and with an impressive array of tropical and lushes plants, from the tropical palm trees, orange and lemon trees to the Mexican cacti, we are lulled into a utopian version.
Designed by Monegasque architect Louis Rué, developed the idea of an 'L' shaped building with three towers benefiting from optimal orientation on the Mediterranean Sea. This is pure visual heaven.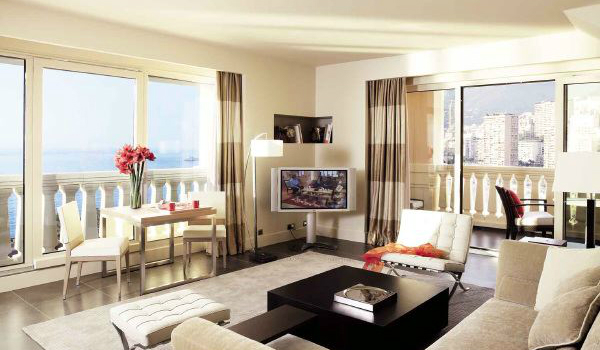 The Mont Carlo Bay Hotel boasts an impressive 344 rooms, 22 suites with three 11 story towers; the subtle play between volume and perspective allows the hotel to be both welcoming, contemporary and impressive.
Under a glass dome the hotel swimming pool is heated to 29°. The garden is reminiscent of "A Water Garden" with wooden bridges spanning the terraces. Inspired by Monet's water lily paintings, the quote is apt:
'A landscape does not exist in its own right as its appearances changes at any moment'
So does the lagoon, reflecting the skies ephemeral nuances and the lulling noise of the sea the feeling of well-being is luxurious.
For this is really a key factor in the appeal of Monte Carlo Bay hotel, the well –being factor. Equipped with a SPA Cinq Mondes, 11 treatment rooms spread over 900 sq metres, a haven of serenity and well-being is offered. The bath Japonais d aromes de Fleurs, the Hammam Aromes and Colour and the exfoliating Eclat Puree de Papaye are just some of the preparation treatments available for a veritable spiritual relaxation. Paradise is found!
In line with the well-being ethos of the hotel, Monte Carlo Bay Hotel has an environmentally conscious approach obtaining the Green Globe* certification, which relies on four important elements, the environment, sustainable management, economic aspect and cultural aspect.
But no perfect luxury hotel can exist without a gastronomic offering, and the restaurant BLUE BAY with the Michelin star awarded creations of Marcel Ravin does not disappoint. A child of the Caribbean combines the culinary style of his origins with the local delights offered. Oven roasted pike moistened with periwinkle and lime dressing; sea bream paupiette with vegetables and bacon, organic egg with truffled manioc, maracuja juice, have propelled the Blue Bay restaurant to shine amongst the essential Gastronomy bastions of the Principality.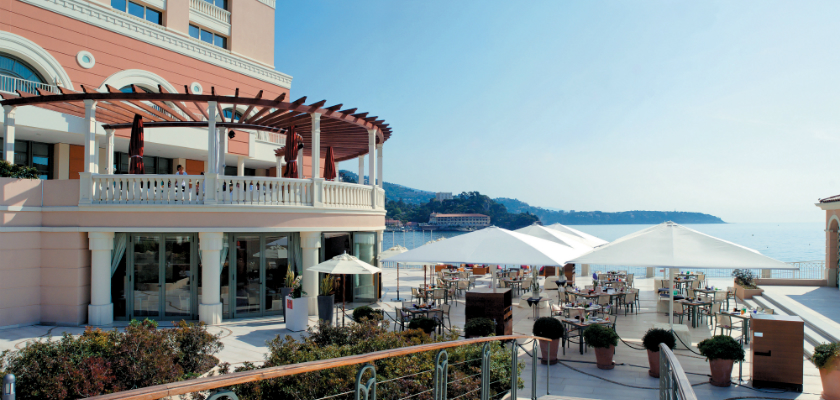 Yet paradise is too perfect for humanity on a daily existence and as such is ideally found and lost! But it is very reassuring to know it can be visited, experienced and enjoyed occasionally. We may have invented Eden, and long to live submerged in the nostalgia of a lost paradise, but I for one am happy to know where a form of paradise lurks…. Monte Carlo Bay Hotel gives a tantalising glimpse of heaven, that echoes in your soul well after you have left. And all the things that you have ever longed for, the secret signature of our soul, the incommunicable longing we often can't express, that unappeasable want seems unimportant in the peace and serenity briefly offered.