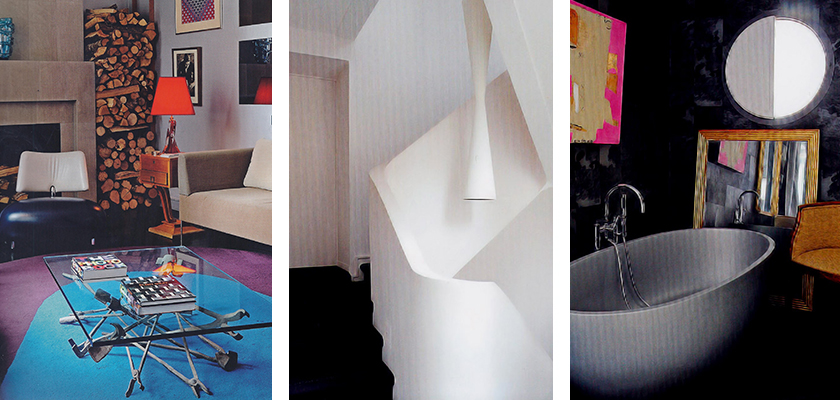 When Interior Designer Hubert de Malherbe took on the project to design a 19th century Hotel Particulier on Square Saint Thomas d'Aquin,  the curbed shape of its façade brought him back to his childhood travels by train.  He was inspired by a sense of movement where bends reconciliate all angles that are never quite straight and spiralling geometric forms close into full circles.  The staircase unravels onto an open circle in the wall from where you can appreciate the view of a living room dressed in an array of bright colours against a backdrop of natural tones where a medley of contemporary furniture from the 30s, 50s and 60s roost harmoniously with a coffee table, lamps and rug of his own design.

His choice of colours and fabrics are meant to incite the senses, to create a cocoon. The master bedroom's walls are coated with charcoal grey fabric, above the bed and amidst family portraits and paintings, a pair of arms braced in prayer stretch out of the wall. An egg-shaped silver glazed porcelain bathtub sits in the opposite corner as to render homage to his subtle notion of the unexpected.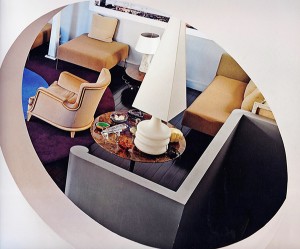 "I am inspired by Warhol, he was playful and dared to question aesthetics and popular culture," says Malherbe. The kitchen in itself is like stepping into a fashionable restaurant with a spectacular bar that shelters cookery intent for "la haute cuisine".
---
texts Debra-Derieux Matos
photos Reto Guntli, Agi Samoes
Living in Style Paris