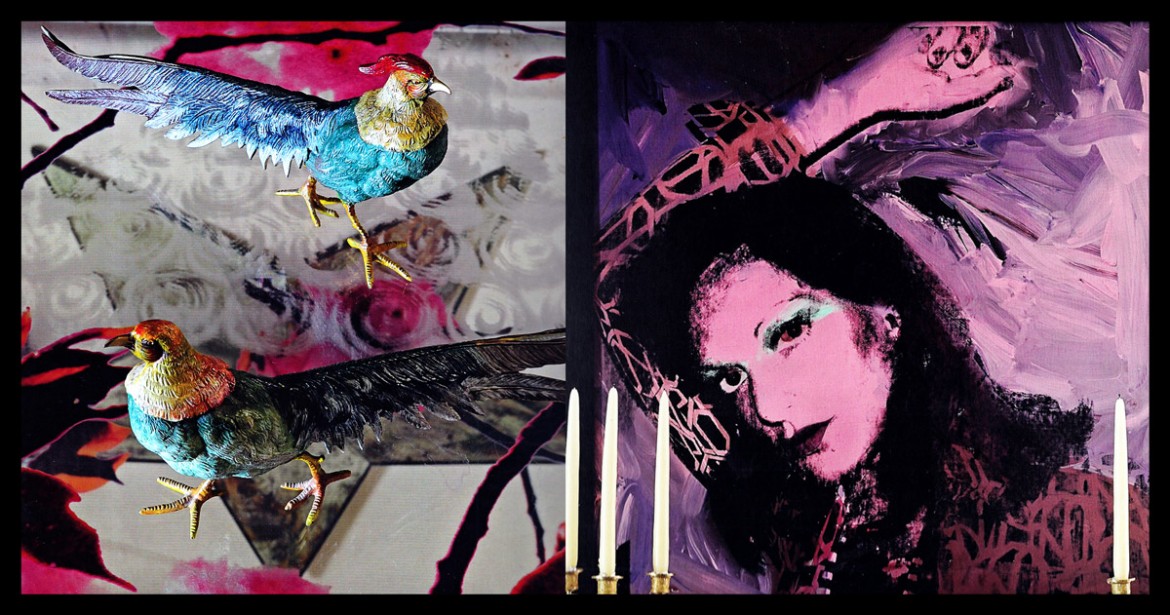 Design icon Diane von Furstenberg – AKA DvF – never leaves her camera behind, always geared to capture the images that feed her imagination and inspire her designs. Way before globetrotting became a trend, in her early childhood it was a way of life. Diane von Furstenberg continues to honour this family tradition, whether it be alone or with her family, trekking obscure destinations and exploring unfamiliar landscapes bringing back treasures filled with a richness of experiences and images. When Diane von Furstenberg comes home to New York, Connecticut and the Bahamas, she drops her bags and loses herself to the quiescence of family life. But her pied-à-terre in Paris is more than just a home, it's a refuge where she finds herself, and she is known to have said, "Paris is me – me alone". With her successful career, she could have easily acquired a glitzy hotel particulier in one of Paris chic Bourgois neighborhoods. But her comeback had to be true to where it all started for her… in St. Germain de Pres, one of the world's great haute bohemian neighborhoods, once playgrounds to Josephine Baker prancing in feathers and tapping shoes and where Ernest Hemingway sat for hours in Les Deux Magots to concoct "Moveable Feast". A neighborhood on the left bank filled with bookstores, exorbitant galleries and a great sense of style that fills the air.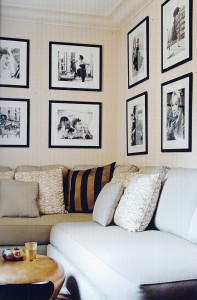 When Diane von Furstenberg returned to Paris, she never expected to find a place two doors from her earlier years. A cosy pied a Terre where she can daze at the magnificent 17th century Mazarine Biblioteque from her dining room window as she sips her morning coffee. It was with her longtime and close friend; Francois Catroux that she set out to combine their shared sense of glamour and earthly simplicity to decorate her new Parisian pied a Terre. Internationally renowned Mr Catroux applied his particular blend of good taste, discipline, and refinement along with his designs, which are the product of his mastery of handling volumes, surfaces and proportions. As her iconic jersey slinky wrap dress, it was important for Diane Von Furstenberg that the design of her Parisian home be a reflection of who she is, with elegant simplicity and comfort where patterns and colours unravel and live on in her surroundings. She wished to create a living space that doesn't feel decorated yet filled with beautiful objects, family relics, and paintings by friends like Andy Warhol, Francois-Marie Banier… Practical and comfort-oriented, they both aimed at creating a refined, timeless universe where her collection of original ethnic chic fuses harmoniously with contemporary designers and antique pieces.
Like a symphony, a delicately painted Plexiglas coffee table designed by Kimoto Yoshida supports two rich fully colored porcelain birds while an Andy Warhol portrait of Diane Von Furstenberg grooms the wall that hangs over a marble-top Empire console. When one enters her living room one is besieged by an irresistible urge to plunge into a silk golden eggshell toned sofa designed by Mr. Catroux, two copper-toned pouf style coffee table designed by Herve Van Der Straeten stand between two African crafted armchairs confectioned in colored pearl beads. The Zebra motif carpet is of her very own design.
In her office, Avedon black and white photos dress the walls, beige and grey tone sofa and cushions Catroux design and copper-toned pouffe style coffee table by Herve Van Der Straeten strike a glamorous tone, homage to High Fashion and Hollywood at the height of the Golden era.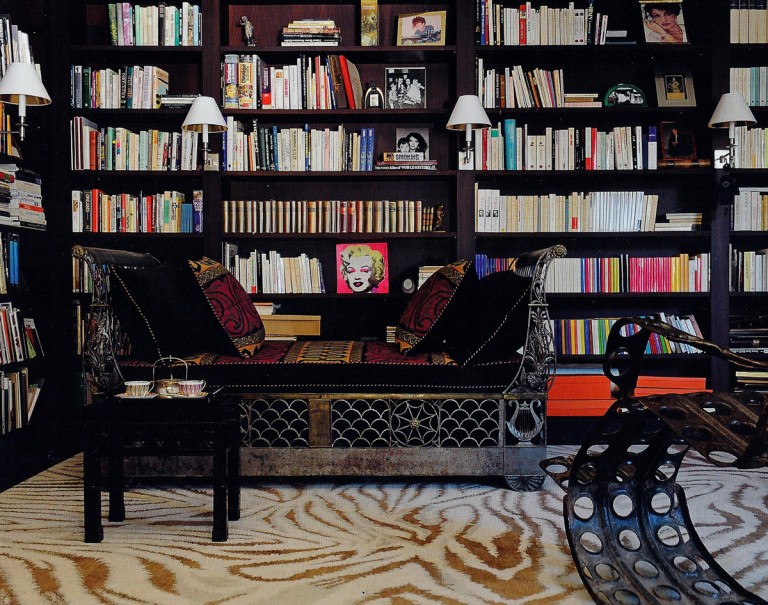 Diane von Furstenberg's library is an exquisite Out of Africa revisited space where a Wengé bookshelf covers the walls, filled with books, personal mementos and photos and an Andy Warhol portrait of Marilyn Monroe. Her zebra motif carpet covers the floor and an iron cast bed from the period of Restoration re-upholstered in rich color silk African fabric is flanked by a Chinese style coffee table and a surprising rocking chair made out of the metal used for taxi ways in African rural airports during colonial era.
text Debra-Derieux Matos
photos: Reto Guntli
Living in Style Paris