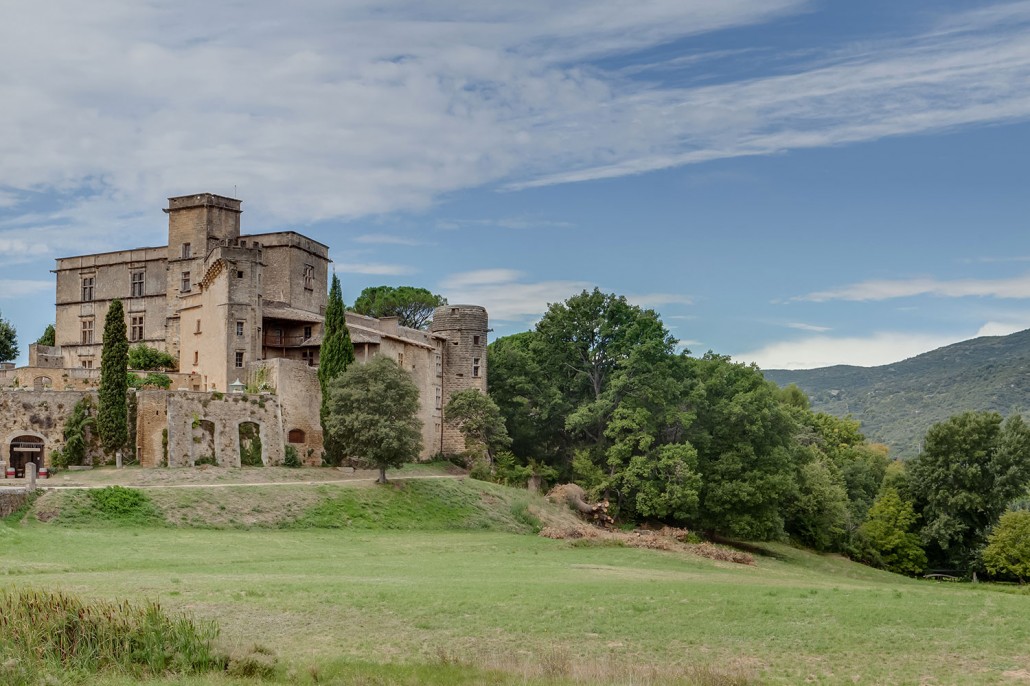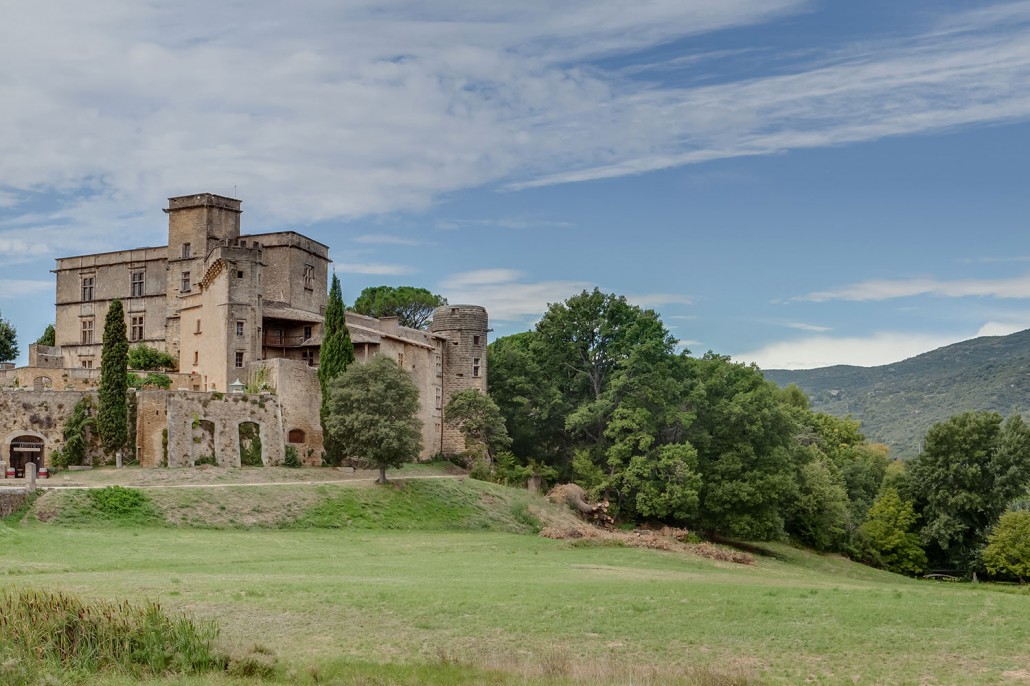 Contributing Editor Lucy Self explores her pursuit of happiness and finds it in one of the most beautiful villages in France – Lourmarin.
With these words ringing in my ears I head into the Luberon to discover this mythical village that is so often mentioned by those in the know. Lourmarin is where my philosophical hero Albert Camus lived and died and in search of the meaning of his quote, I discover the ideal village. Listed as "one of the most beautiful villages in France", Lourmarin nestles in the middle of vineyards, olive groves and almond trees.
Everything is perfect! From the cobbled stones, beautiful 15th Century château, evocative fountains, typical Mediterranean architecture with the delightful winding narrow streets, lovely old restored houses and well shaded public squares; you can immerse yourself in the Provençal ambience easily. It really is picture-perfect.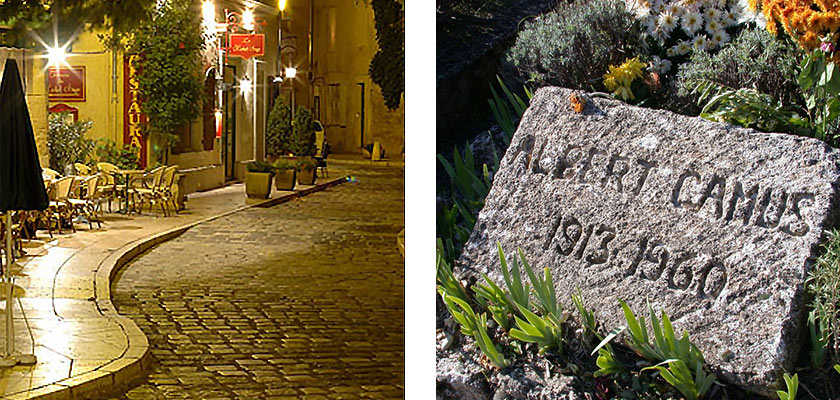 With the secret stream running through the village, one can effortlessly forget time has passed and one has a feeling of stepping through Alice's Looking Glass into a parallel existence. One rapidly gets caught up in the fantasy of the atmosphere and start to take on the nonchalant posture of the locals. Quickly I start to believe that this village could be the answer to so many of my questions…. Maybe even the BIG question, the pursuit of happiness!
It is easy to be 'happy' whilst browsing the little shops and I am quickly on first names with all the locals. From the resident artist Thierry Marchal who exhibits his haunting and suggestive paintings to the tempting little charming shops and the charming antique dealer Jean-Bernard with his eclectic treasures at L'Antiquaire.
The perfect restaurant to try is Le Numero 9. With its stunning courtyard, it is a hidden gem that not only surprises but delights with its culinary artistry. Romantic, charming and absolutely authentic in its charisma, it is worth visiting the village for a romantic candlelit dinner that brings evocative passion to the evening!
Otherwise, the new opening of the new Maison Reynaud, a bistro and tapas bar, promises to be a huge hit with the charming David and his business partner Franck as hosts; relaxing in the sun, drinking your rosé while watching the locals play petanque makes this all feel so authentic!
In the centre of Lourmarin, there is Michelin star chef Edouard Loubet's hotel and restaurant Le Moulin. Edouard, who won his first Michelin star in 1996 and his second in 1999, continues to attract not only the local French gastronomies but also an ever-increasing international discerning clientèle who travel from afar to savour his culinary wizardry. With its wonderful open space backing onto a shaded terrace, the restaurant at the Moulin is both charming and comforting. The whole experience of dining there is a luxurious indulgence and quintessentially Provençal. Reflecting the changing seasons in his elaborate creations, dining at his restaurant is the ultimate sensual culinary experience.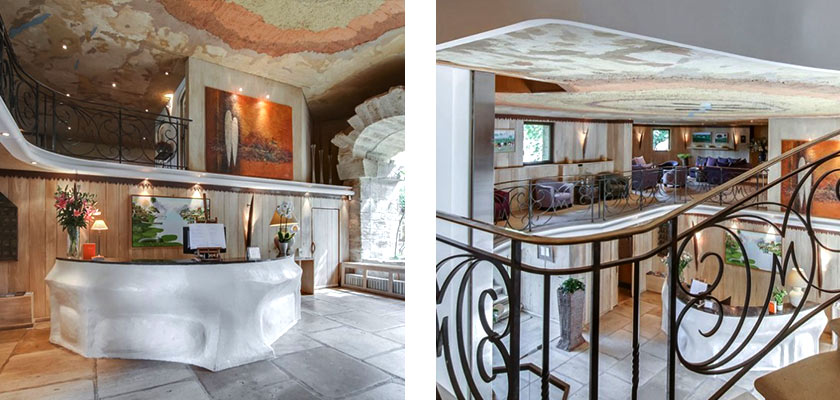 It is the charm and charisma of locals that makes this village so attractive. Saunter in a discover DGL, a charming boutique that sells the wonderful Durance products ( specialists in delicious products using Lavender and pure local essences ), unique jewelry creations and must have one-off fashion pieces that make you feel instantly chic and french like the charming creator Dorothee Girodias!
For your look to be complete for the evening apéro, swing by the local hotel spa retreat: Bastide Lourmarin for a stunning beauty session that will make you feel dazzling and ready for a great evening. This charming Hotel Spa is an easy option for walking distance to the village and the charming hosts, Jerome and Florence make you quickly feel like you belong in this village.

As the sun sets and stars sparkle in the expansive Luberon sky, the perfect moment is recreated and one can effortlessly be happy here. With the evening perfectly rounded off with a glass of champagne or a dangerous Cucumber Gin and Tonic at the infamous Maison Café, the local ambience lures me into believing I too, like my hero Camus, could stop my wanderlust quest for travelling and possibly be lured into staying.
Beamed back to reality, I pack my bag for London and while I am sad to say goodbye to this placid village, I know I will be quickly booking my return flight back.  Lourmarin is as unflawed as the picture-perfect happiness we pursue in our wildest dreams and in this lively, romantic village it is easy to lose our sense of wanderlust and feel content to stay. ' Petit apéro anyone?'…