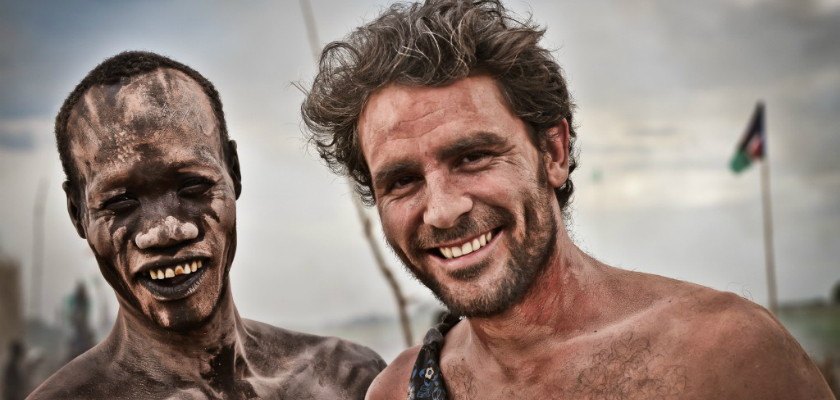 With the upcoming release of his new book which documents his incredible African expedition, 'Walk the Nile', Livvi Alderson-Tuck catches up with Lev Wood before he jets off for his next adventure.
HAVE YOU ALWAYS HAD A SENSE OF ADVENTURE FROM CHILDHOOD?
I was a curious and adventurous child and my Dad had a library full of travel books so I was immersed in that world from a young age. I loved the classic explorers' tales from TE Lawrence to Shackleton and I always dreamed of adventure. To me, the world was always there to be explored.
EVIDENTLY, YOU HAVE TRAVELLED EXTENSIVELY; WHICH CITY IS YOUR FAVOURITE IN THE WORLD?
Cape Town. It's an incredibly beautiful city. I love the historical tapestry behind its cosmopolitan heart, whether that's the European Winelands or the gabled homesteads of the original colonists and English-built Georgian mansions – it has an amazing past, full of hidden secrets. As a modern city it is thriving, offering art galleries, world-class restaurants, a busy harbour and iconic museums but most of all I'm always completely struck by the proximity of nature to all of this. I love the pace of life there, people seem to radiate happiness in Cape Town and I'm very drawn to that.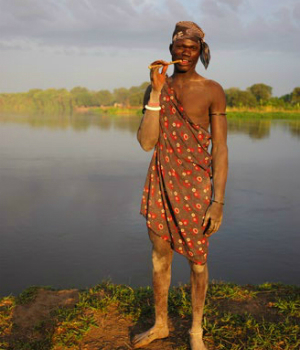 YOU HAVE INTERVIEWED AND PHOTOGRAPHED MANY PEOPLE OF NOTE DURING YOUR CAREER; WHO WAS THE MOST MEMORABLE OR INTERESTING PERSON YOU HAVE MET?
During Walking the Nile, I met endless extraordinary and memorable people but I think the person who had the greatest influence on me in terms of the path I have taken in life, is wildlife artist, David Shepherd. When I was 10, my Dad took me to one of his book signings and I remember thinking to myself: "So this guy gets to travel, paint elephants and makes a living from it." I thought I'd be an artist, but it turned out I was rubbish at drawing. A few years later, though, I went on holiday to Kenya with my parents, saw elephants for myself and decided to follow the travelling route. Meeting George Clooney whilst in the field was fun too.
YOU ARE THE CO-FOUNDER OF SECRET COMPASS; WHAT WAS THE INSPIRATION BEHIND THE COMPANY? WHAT KIND OF EXPEDITIONS DO YOU OFFER?
It was during my time as an Officer in the Parachute Regiment that I met my good friend, Tom Bodkin. Tom was a fellow commander in the Paras, we both shared a love of travel and adventure and so when we left the army we decided to channel that into setting up Secret Compass. The core aim of the company was to create imaginative experiences for adventurers around the world, leading pioneering expeditions to the most remote regions on earth. The company based itself on the premise that nowhere is off-limits it was very much born from an army mentality – give us a challenge and we will rise to it.During my time with the company we achieved ground-breaking world firsts including the first ever successful walk across Madagascar, coast to coast, mountain climbing in Iraq, and a horse riding expedition retracing the steps of the explorers of the Great Game in search of the river Oxus. I like to think that through these journeys, we made a bit of history.
YOU HAVE RECENTLY RETURNED FROM YOUR 9 MONTH EXPEDITION, WHICH SAW YOU WALK THE LENGTH OF THE NILE. WHAT WAS IT ABOUT THE NILE THAT INTERESTED YOU IN THE FIRST PLACE?
I've always been fascinated by Africa. When I was a young teenager, my father gave me books about the great Victorian explorers — Burton, Speke, Livingstone, all the ones who had travelled there and it was during my gap year when I spent time in South Africa, Zimbabwe and Zambia that I really became hooked. I'd always wanted to do an epic expedition there, and after driving from London to Malawi in 2010 I decided to do it again but this time on foot so Walking the Nile was the culmination of 15 years' work for me.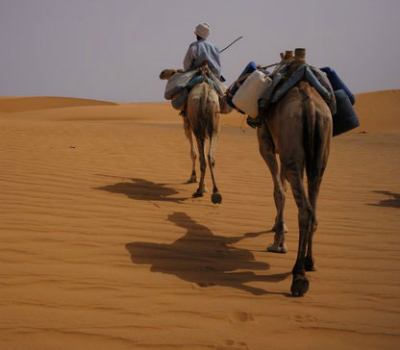 WHAT WAS THE BIGGEST CHALLENGE YOU FACED DURING THAT EXPEDITION?
The tragic and sudden death of my colleague, Matt Power in northern Uganda was a desperately difficult time. Matt joined us for a few days to cover Walking the Nile for Men's Journal. He was fit, healthy, only 39 and a fiercely experienced and capable travel writer. Matt collapsed of heat stroke in the remote Ajai Wildlife Reserve, an area too isolated for quick rescue. Matt's death left us numb with disbelief and brought the whole expedition and its ethics into question. We were asking ourselves 'do we carry on- in his honour?' In the end, it felt like the right thing to do, or it was all for nothing, but we nearly ended the expedition there and then.
DID THE EXPEDITION ALLOW YOU TO SEE A DIFFERENT SIDE TO THE COUNTRIES YOU TREKKED THROUGH?
Definitely, take Sudan for example. People often define the country by its dictatorship, but in reality, some of the people in Sudan are the friendliest I've ever met. It says a lot about a country when every single house has an urn of water that's just there for passing strangers to help themselves to. Some of these houses are 10 miles away from the river and they go out every day to fill up these water urns, it's incredible. In South Sudan, although it's a war zone, you find these pockets of serenity. The peace-loving Mundari tribe could not have been more welcoming, they value generosity highly and it's thought that if you're grumpy it can make you sick. My time in the cattle camp islands of the Mundari tribe gave me some incredible memories that will stay with me for the rest of my life.
THE EXPEDITIONS AND ADVENTURES YOU UNDERTAKE MUST BE PHYSICALLY AND MENTALLY EXHAUSTING. WHAT KEEPS YOU MOTIVATED WHEN YOU HAVE TOUGH DAYS?
I'm a firm believer that you need to constantly challenge yourself, overcoming both physical and mental goals in order to evolve as a person. During the Nile expedition, I was walking for days and days on end, seeing so many unchanging horizons in the desert. It's just a case of keeping your mind focused on the day-to-day, like where you'll find water, rather than any big thoughts. For the first half of the expedition I didn't bother with entertainment, but towards the end when I felt like I needed motivation I listened to audio books – lots of Nile-related stuff and history, a bit of Kipling. Thinking further back to previous expeditions, my military experience has definitely got me through some of the more testing times. I spent five years with the regulars, and a stint before and after in the reserves. The military gives you a certain mind-set. It trains you to push yourself to the limit and beyond.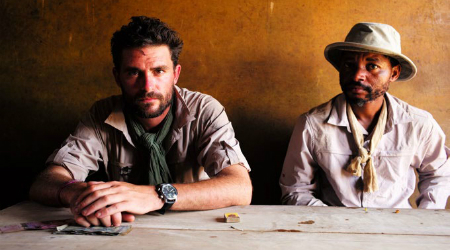 PHOTOGRAPHY HAS ALWAYS PLAYED A BIG PART IN DOCUMENTING YOUR TRAVELS. WHAT DO YOU FEEL MAKES THE PERFECT SUBJECT FOR A PHOTOGRAPH? ARE THE PHOTOS YOU TAKE SPONTANEOUS OR DO YOU CONSCIOUSLY CREATE THE SCENE?
It was while I was in the army that I began to develop an interest in photography and I began to use it as a way to document my passion for adventure. With Instagram and social media, many people are curating their lives online and it's very manipulative, I use my photos to cast a truthful eye over what I discover on my travels, away from staged shots and Instagram filters. I'm a strong believer that it's essential to capture something honest in your photography. When I photograph the people I meet, I see each photo as an unspoken conversation with that person – the more I engage with them, the more vivid a story the photo will tell. Thinking back to Walking the Nile, the Murchison Falls national park in Uganda was the most memorable scenery I encountered there. We'd get out of our tents in the morning to the most spectacular wildlife and raw nature, it was truly breathtaking. It's so important, when you're trying to capture that perfect scene, that you don't take its beauty for granted.
WHICH BRAND COULD YOU NOT LIVE WITHOUT DURING YOUR EXPEDITIONS?
Over the years I've been lucky enough to be supported by a multitude of great brands, most recently Alt-Berg, Belstaff, Burberry, Craghoppers, Ghurka USA, IWC Schaffhausen and Leica. In their own key ways, each of these brands are crucial to making my journeys possible.
WHICH LUXURY ITEM DO YOU WISH YOU COULD TAKE ON YOUR EXPEDITIONS WITH YOU?
Even though I fill up my iPod with audiobooks I still like to have a paperback with me at all times, just in case there's no power and I want to read. On my current journey, I've got Homer's Odyssey and the Art of Happiness by the Dalai Lama.
WHAT IS THE NEXT ADVENTURE FOR YOU?
I'm currently halfway through it! Unfortunately, I'm not at liberty to say where I am just yet but it's epic! On the horizon though I've got my sights set on Burma, Morocco, the US and more.
Content donated by Brett Gregory-Peake, Director at Adoreum