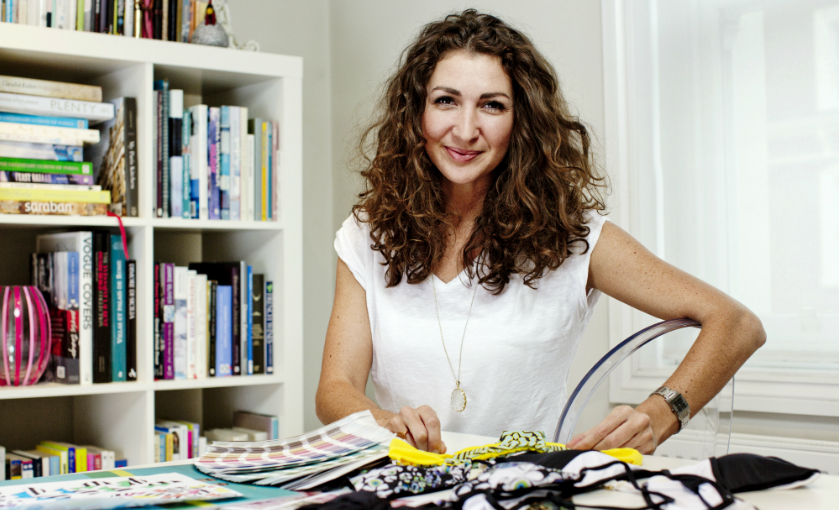 Nikki De Marchi is an Australian-Italian swimwear designer and founder of her eponymous beachwear brand based in London. She grew up surfing in Newcastle, Australia where her love of the sea and swimwear first began. It was there she developed a deep understanding of what women want when it comes to beachwear, and how swimwear should fit and perform in the water.
In an exclusive Q&A, Nikki De Marchi tells Lucy Self, Editor at Large more about her life.
Tell me something about you that most people don't know?
I hitch-hiked alone to Timbuktu for a music festival in the Saharan desert when I was 24. It was not one of the most sensible things I've ever done, but it was an adventure!
If a genie were to grant you one wish, what would it be?
To find true love! As the founder of a growing brand and business, I don't have a lot of spare time, so my personal life has taken a back seat recently.
What was your last thought before going to bed last night?
Actually it was a quote by Beau Taplin: "On the difficult days I like to remind myself that diamonds are made under the weight of mountains."
What is the first thing you think of when you wake up in the morning?
"Another ten minutes" for about the first 30 minutes… then, "ESPRESSO."
A good day is…?
A morning walk along the beach in Nice, riding my Vespa along the coast to Cap Ferrat and spending the day at Paloma Plage, swimming in the crystal clear waters of the Cote d'Azur, and watching the sunset over the ocean with an Aperol Spritz in hand.
A bad day is…?
Drowning in admin!
What's on your night table?
A pile of half-read books in French and Italian, scented candles, a pair of diamond earrings, and my iPhone.
Which fictional figure do you identify with, and why?
La Muerte in Guillermo del Toro's animated film "The Book of Life", not only because she is passionate and sexy and wise and kind, but because she is a woman who knows that anyone can die, but not everyone has the courage to truly live.
What's your favourite place for lunch?
Le Cabanon at Cap d'Ail, a rustic beach shack overlooking the sea that serves some of the most delicious food on the Cote d'Azur.
Most used emoji?
The bikini emoji of course, then the palm tree, and the cocktail!
What's your computer screensaver?
I love the sea, so perhaps it's no surprise my screen saver is a giant jewel-coloured wave.
If you could invent something, what would it be, and why?
I would invent a tiny computer chip that I could slip in my ear and that would allow me to be fluent in any language. I think the ability to communicate and connect with people in their own language is such a gift, I only wish I could speak more languages!
Music you love…?
Anything and everything from opera and Ethiopian jazz to Italian pop, French rap, sixties rock n roll, Arabic ghazals, and deep house.
Music you hate…?
Trance… I just don't get it.
What three things are vital to your day?
Sunshine, because it always makes me feel good, espresso (I am half Italian after all), and good food, because eating well is one of life's greatest pleasures.
What's the most expensive thing you've ever bought? (Aside from property!)
Fine jewellery. I think there's something incredibly empowering about buying your own jewellery as a woman. I started off small but somehow the purchases keep getting bigger!
What's your greatest fear?
Mice. I can't stand them.
What's your guilty pleasure?
I'm never guilty about pleasure, and I have been known to eat an entire box of GuyLian chocolate seashells on more than one occasion.
What flavour of ice cream are you, and why?
Salted caramel, classic with a twist.
There's a fire in your house, what item do you save?
My British passport, it's the most precious thing I own!
What's the hardest criticism you've ever received?
I'm a perfectionist, so my toughest critic is myself. Although now whenever I hear that critical inner voice I try to balance it with a positive thought.
What piece of advice would you give your 20-year-old self?
A friend once told me there are only three purposes in life: the pursuit of wisdom and truth, kindness and caring, and beauty. Choose the one that sounds most right to you, and life a live that allows you to do that.
What's your most embarrassing moment?
Falling down face first on the dance-floor at a friend's wedding and flashing my bottom to the entire wedding party. It was a night to remember.
What's your proudest moment?
My proudest moment was seeing the 'Poseidon' bikini from my Resort 2015 collection in Tatler UK, alongside swimwear from Dolce & Gabbana, Missoni and Stella McCartney. I never dreamed that one day I would see my designs sharing the page with such talented designers.
What do you think about the most?
I've had my swimwear brand for almost three years now and it's like having a child: it's utterly dependent on me to survive and grow, and it is always in my thoughts.
Colour you love?
At the moment, I'm in love with blue, from the darkest navy to the brightest Bellagio blue that appears in my Spring Summer 2016 collection.
Colour you abhor?
I'm a designer, I love all colours!
What inspires you?
I'm inspired by beauty in all its forms: people, places, objects, ideas, and experiences.
How old were you when you knew you wanted to do what you are doing today?
I was 27, however I didn't actually launch my brand until my early thirties. It takes time to figure out what you want to do, and then it takes courage to do it.
What was your first piece?
The first bikini I ever designed was the 'Hibiscus Dawn' Ombre triangle, which was inspired by a hibiscus flower I saw at dawn one morning on holiday in Kerala. It was the most extraordinary crimson colour at its centre, fading to white at the end of its petals. I was so struck by its beauty that I went back to photograph it later that day, and then recreated it in the form of a bikini.
If you were a country, which one would you be?
Italy of course! Aside from its elegant cities and natural beauty, the Italians themselves are at once extravagant and yet simple in their approach to life, with a passion for "la dolce vita" that I also share.
If you were asked your pick on a celebrity to dress, who would that be?
Elle McPherson. Growing up in Australia as I did, to me Elle will always be "The Body": long, lean, and toned, but still feminine and natural.
Are you more of a wall flower or a bar fly?
It depends on the day.
More of a poet or a philosopher?
Both!
Your favourite time of the day?
Sunset. You know in Rio de Janeiro the sunset is so important that everyone on the beach stops what they are doing and stands up to applaud? It's magical.
Name one activity you do every day no matter what!
I drink espresso.
A total waste of time?
Complaining. It doesn't lead anywhere.
Favourite breakfast?
Scrambled eggs at Granger & Co in London, they're the best.
What is your pet peeve?
People who walk too slow! It drives me crazy.
Success is…?
Knowing that you gave it your best shot.
Failure is…?
Not trying.
Happiness is…?
Figuring out what you want to do with your life, and then doing it. Even when things are going wrong, it still feels right.
To view Nikki's latest collection visit www.nikkidemarchi.com