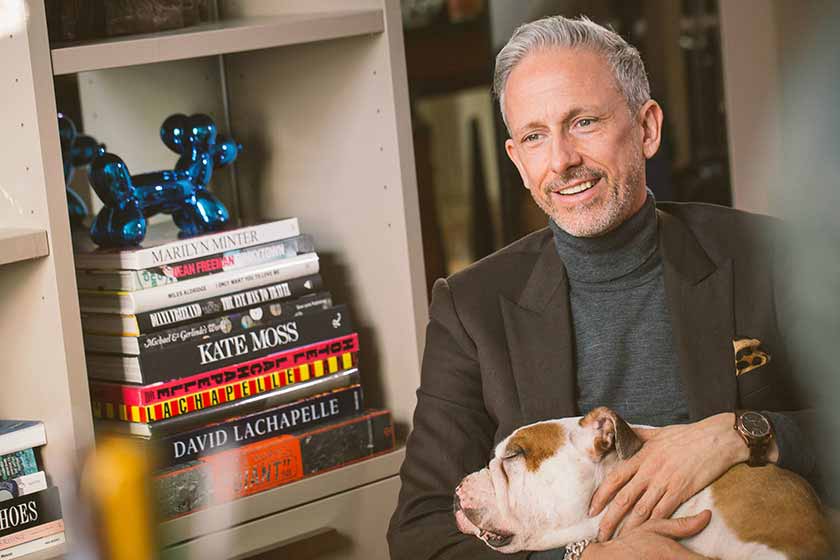 Patrick Cox, the eponymous shoe designer and industry veteran reveals to Contributing Editor Brett Gregory-Peake his latest venture, plans for christmas and his collaboration with custom watch specialists, Titan Black.
HOW ARE YOU AND THE BULLDOGS SPENDING THE CHRISTMAS HOLIDAYS AND NEW YEARS EVE?
This year I'm having a traditional countryside Christmas with some good friends in Herefordshire, indulging in nice long walks, sitting by the fireplace and eating great food, together with my smelly, wet, happy dogs.
WHERE DO YOU LIVE AND WHY?
In Little Venice, London. I've lived in London for 31 years, and I've never lived anywhere without a W postcode. I used to live in Notting Hill but then I decided that I wanted a gorgeous front door so I bought the house that I'm currently living in. At first I felt as though I had moved to suburbia but now I love it. I love being close to the canal where I walk my dogs.
HAVING OVER 25 YEARS' WORTH OF EXPERIENCE IN DESIGNER FOOTWEAR, WHAT ADVICE WOULD YOU GIVE TO AN ENTREPRENEUR LOOKING TO BREAK INTO THE INDUSTRY?
Learn languages, as many of them as possible. You can find footwear trends anywhere, but one of the most important aspects of design is the way you communicate your ideas. Pay attention to the finance. We all know it's boring but there is no point being the world's greatest designer if you're bankrupt. Know your way around a spreadsheet. We are in the process of raising finance to support the growth of Lathbridge, which has required me to become much more capable when it comes to sales forecasting and cashflow. Be true to yourself. Dare to do things, especially when you're young; it will only get harder later in life. Confidence and the belief in your ideas is a key factor to success.
WHAT IS LATHBRIDGE?
Lathbridge is a men's accessories brand, and emporium for him and the home, not just footwear. Taking after old school American haberdashers and delivering those traditional products with a sense of modernity.
WHAT IS THE HISTORY AND INSPIRATION BEHIND THE BRAND?
I left my own brand, Patrick Cox, several years ago, and since then I have been working with Geox. Whilst working with Geox has been incredibly rewarding, it's also frustrating not being in charge of the final product so I've decided to continue with my own line again. My full name is Patrick Lathbridge Cox, it's my great English uncle's last name and it was passed down to me. I like it because it's substantial and British, it has a sense of history in the same way that I feel that footwear, more than anything, has a strong sense of history too.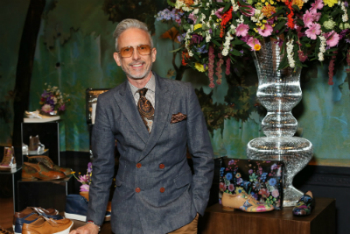 WHAT INSPIRED YOU TO FEATURE YOUR BULLDOGS AS SUCH A LARGE PART OF THE PRODUCT BRAND OF LATHBRIDGE?
I wanted to design a brand that was quintessentially British and male. They're my favourite dogs and it worked for me on so many levels. I go everywhere with them, they come my lawyer meetings, the bank, they come with me everywhere that they can access legally, so not having them as part of my brand's DNA wouldn't feel right. They are a perfect complement to the brand and to me. Of course, the Lathbridge range may include some dog products as well.
COULD YOU DESCRIBE AN OUTFIT THAT YOU THINK WOULD BE PERFECT TO WEAR WITH A NEW PAIR OF TYPICAL CASUAL LATHBRIDGE SHOES?
Once you're wearing Lathbridge shoes and using the Lathbridge wallet, wear whatever makes you happy. With Lathbridge we will be doing things that are suitable for jeans, suits, going to the beach and whatever else you can think of. We will be footwear experts.
LATHBRIDGE ISN'T DEDICATED PURELY TO SHOES, BUT HOMEWEAR AND MEN'S ACCESSORIES TOO. ARE YOU EXCITED ABOUT BROADENING YOUR CREATIVE FOCUS?
I want it to be a brand curated by me. It can be somewhat limiting to just concentrate on shoes, so I want to have a whole proposal of accessories. We'll be producing all sorts of products.
YOU HAVE HAD PHENOMENAL SUCCESS WITH GEOX, WILL YOU CONTINUE WORKING WITH THEM?
Yes of course, the two things are completely complementary. I have spoken to Geox about Lathbridge in depth and they're thrilled. It's a totally different price point, market and brand. It's a different shoe.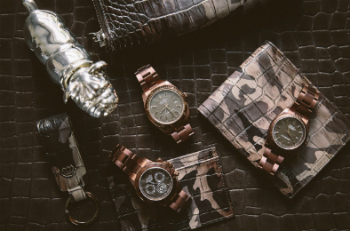 ARE THERE ANY OTHER COLLABORATIONS ON THE HORIZON?
I am working on a collaboration with Titan Black, who specialise in customising luxury watches. My friend, Luke Waite, asked me a few years ago if I would like to work with him on a special product; it's three years in the making, but in January 2015, we launched a special edition Lathbridge Rolex in brown carbon.
WILL YOU BE SETTING ANY NEW YEAR'S RESOLUTIONS?
Well (laughs), you know what, since I stopped working on my own brand, I haven't been the most hardworking person, so I'm really excited about launching Lathbridge and committing my efforts and attention to its success.