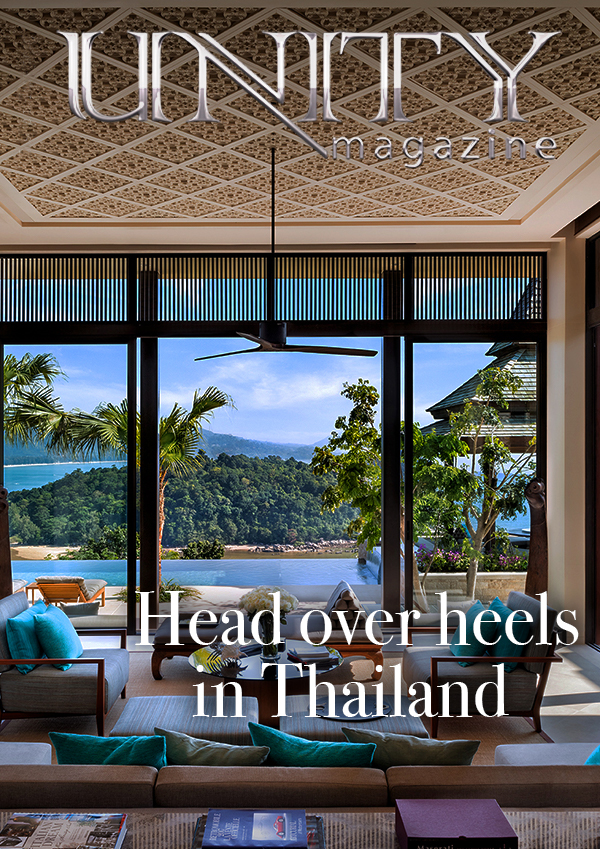 Luxury, beauty and relaxation, what more could anyone wish for in a holiday? Travel Contributing Editor Francesca di Belmonte explores Thailand.
Thailand has been a leading destination for travellers searching for rest and relaxation since the end of the Vietnam War in 1975.
Nearly half a century later, our aim to experience the highest end of the Thai hotel industry, starts in bustling Bangkok.
Arriving from wintry London, first the heat hits you, then the smell. It's unmistakable, utterly unique, quickly enveloping you in the energetic and exotic rhythm of this leading Asian City. Many visits later, I still get a thrill from exploring this welcoming and intoxicating city.
Tuk tuk drivers frequently stop to offer a ride: but the fun is all in the haggling to board each over-decorated vehicle. Our first is tulip yellow, with a flash of coloured light in the passenger cabin when the brakes are used. Having discovered how much to pay from the hotel, we stick firmly to our offer. Five minutes of driving though the warm air, meandering through traffic lanes and swaying up alleyways, we have dashed from the sumptuous Sukhothai Hotel to the pier called Sathorn. Our aim is to skip the traffic with a river boat trip, and to enjoy some of the best views in Bangkok.
Several kinds of craft- local ferries, tourist boats, express boats, river taxis and tail-boats- run up and down the Chao Phraya River, locally known in English as the River of Kings. A tourist boat stops on request and provides access to attractions like Wat Arun (Temple of Dawn), The Grand Palace, Wat Po and the Royal Barge Museum. It's also great value, including a guide and various announcements of key sites en route.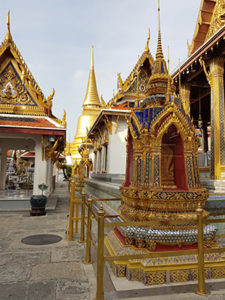 After stopping several times, with the Grand Palace the highlight and a must-see for all, with its magnificent collection of Buddhas rescued from …Siam. With one of the country's leading universities close-by, any graduating students come to celebrate and give thanks for their good fortune at the magnificent places of prayer in the Palace precincts. Several Thai kings have considered education to be a priority for the country, a theme we see again and again on our journey. At the Palace, my husband is thrilled to find that short trousers are not allowed. He has the excuse to pick up a rainbow pair of tie-die trousers for 400 baht (£9). I am filled with fear about where he'll be wearing those next!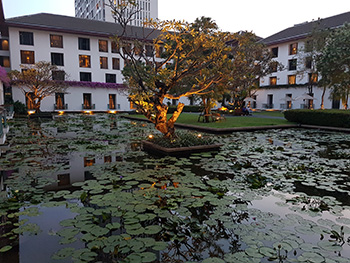 We hail a bright pink air-conditioned taxi back to The Sukhothai, content to rediscover the tree-flanked driveway and acres of lily ponds and flower gardens. The Sukhothai with over 200 rooms is unlike many Bangkok hotels, not being a skyscraper. This elegant property offers regal escapism with discrete modern indulgences. Named after the first capital of Siam, this Bangkok institution is characterized by spacious courtyards, open-air arcades and tropical gardens. It's Oriental pavilions and symmetrical low-lying buildings are surrounded by rich vegetation and reflecting pools. An urban oasis plays host to an array of renowned culinary options- from authentic Thai to Italian and international cuisine. Before heading out for further adventures, we stop at the open-air bar for a delicious cocktail overlooking the beautiful inner courtyard, with its water-lily filled pools. As the evening closes in, traditional candle lanterns are placed throughout the hotel, painting a romantic and atmospheric scene.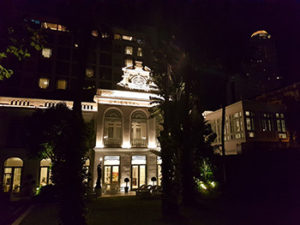 For a change of scene, we head to the Mandarin Oriental for dinner on the world-famous terrace overlooking the river. The water beyond us is dark, but reflections from the small waves make it seem lively, and the City's skyline reflecting on the river tinges it with beautiful colours – an electric display of light undulating close to the dinner table. The water-borne activity is exciting, even at night. Numerous bright river cruisers- this one showing off in blue, the next making its boast in green- try to outperform each other and dodge the small but powerful tug boats pulling enormous chains of rice barges or freighters up to 200 meters long. With no blue, no green, and without disco music, the tugs are stealth-like. One can faintly make out the vast black objects gliding through the water: but not a sound or light could be seen from these dark river giants bringing essentials to Bangkok and its upstream settlements.
To finish the night's adventures, we zip across to Lebua Hotel and its renowned Sky Bar. Suspended on a precipice above the city 820 feet up, Sky Bar is one of the highest rooftop bars in the world. It reinterprets Bangkok's cocktail culture night life. The terrace champagne bar often has live music- wonderful jazz while we were there- and there are spectacular views to enjoy over the myriad of city lights below. For those in search of calm sophistication, a cocktail at the low-lit interior bar is just the thing for the romantic.
Our next stop in Thailand was Phuket, about an hour's flight from Bangkok. A sleek black Mercedes greeted us. The driver sent by the hotel thoughtfully offering an assortment of drinks and an iPad in the seat pocket- perfect for a quick email check or last-minute research before arriving at our stunning destination: The Anantara Mai Khao Villas. In just a 15-minute drive we had run up the coast to one of the most beautiful parts of Phuket island.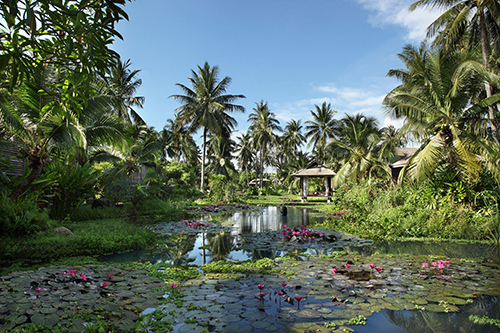 The Anantara Mai Khao is simply unlike any hotel I have been to worldwide. If you are an experienced traveller, as I am, the Mai Khao condemns many luxurious hotels to a lack-lustre mediocrity. Anantara have produced a flawless tropical haven right beside Phuket's longest beach. After checking in, an electric buggy spirits us quietly past lotus flowers and palms to a very private and restive villa, surrounded by wooden screens to ensure total privacy. With plenty of space, our villa has one very large bedroom, its own plunge pool, and a pretty loggia for lazy reading or relaxed conversation. All around are carefully kept trees and vines, lawns and plants: here you will be truly immersed in Thailand's natural beauty.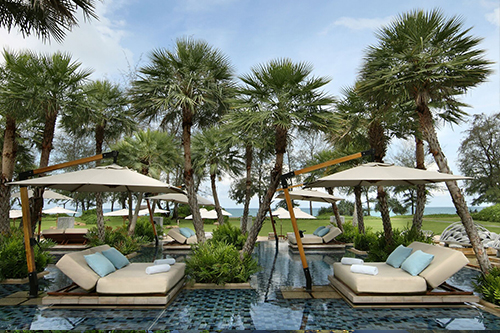 The staff are as friendly as its possible to be: always quick to arrive and immensely helpful. You go very few steps without someone reaching out to you or giving you a friendly smile: everyone is looking to ensure you have the best possible experience. As we stroll down pathways embossed with plant leaves and turtles, heading to the huge series of swimming and plunge pools, I dream of a service level internationally which is managed and trained by the wonderful Thai people we meet.
It may be that 83 private villas are scattered harmoniously amongst the lily-padded lagoon. You will never see them. My husband and I counted a mere 20, well camouflaged by nature. If you arrive here wanting seriously private time, it's easy to lie quietly by a private little pool, all of 3 paces away from one's bed, seeing only those you choose.
But here at Mai Khao, even small and relaxed adventures are rewarding. Brilliantly designed pools by the beach offer large day beds on small platforms in the water, on which R and R is guaranteed. Dipping your warm toes in the water is going to be the most arduous thing you contemplate as a guest. We won't forget the refreshing cocktails and views across the golden sand and the crystal blue water. Nor will you.
The Lagoon Pool Villas are closest to the beach and main facilities: a great benefit for those focused on long beach or pool hours- especially if you are travelling with children and do not want to walk those extra eight minutes. One of these 2 bedroom villas have been transformed into the first Jim Thompson suite in Phuket. White washed wood and the use of gorgeous silks and linen have created a bright and colourful villa which is so beautiful that you do not want to leave.

After a very tough day of reading and enjoying the walks within the hotel, a rendezvous at the Tree House Bar was the perfect way to settle into the early evening. Via steps wrapped around the banyan tree, you enter a bar overlooking natural lily pools, with a stunning vista towards the beach, and a truly original and delicious cocktail menu. We enjoyed birds-eye views of the lighting ceremony: flaming torches paraded along the wooden walkways crossing the wide pools. Later a fire-dancer entertained us on the beach during dinner, our divans not far from the wonderful flavours of the beach buffet.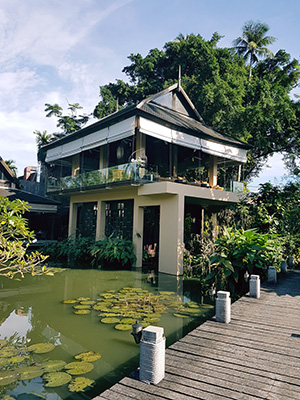 The Spa at Mai Khao is stunning. Huge windows look over floating lilies, while the delights of 7 elegant treatment rooms await. From the massage menu, we chose both traditional and bamboo experiences: for the second, huge pieces of warm bamboo are rolled to great effect over tense muscles. Our treatments were worth repeating, again and again. Quite simply, ten out of ten….
Later we took a guided bicycle tour around a lagoon, setting the hotel and beach in the context of the other luxury properties in this part of Phuket. We learned of Tsunami safety measures, a little local history, and saw traditional Thai houses near the beach- all bamboo and palm fronds. The relaxed ride is highly recommended.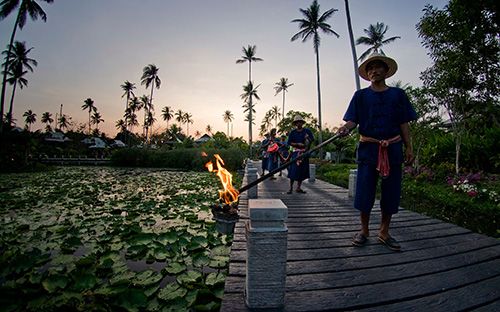 Returning for lunch, we tried the raised and airy beach-side 'Sea.Fire.Salt'. Here, lights in large blue glass teardrops hang high above wooden tables, with the pale colonial architecture, strongly reminiscent of New England, inspiring a summery menu and engaging wine list. It is a clever interpretation of 'Salt': perhaps a fifty! flavoured salts are offered with bread and with the excellent food. Rosemary, Sea-Weed, and Fennel were our favourites. With many salts to sample, every taste finds a friend.
Every stay has a regret. But each good regret is a reason to return. We had no time for the lovely 'Dining by Design' experience. But we will return to try it! The hotel's staff will take the menu and wines that you most enjoy anywhere within range of the hotel. On the beach, at a pool villa, in the gardens: these are some of the dining places which guests enjoy.
Two further Mai Khao secrets must be shared! A wonderful cooking lesson in the hotel kitchens is a must. We picked a Thai recipe. Ingredients magically appear, and our charismatic chef guides our uncertain hands to completed Pad Thai Chicken in just a few minutes. Then there's the pleasure of eating the elegant creation. Brilliant, fun, delicious!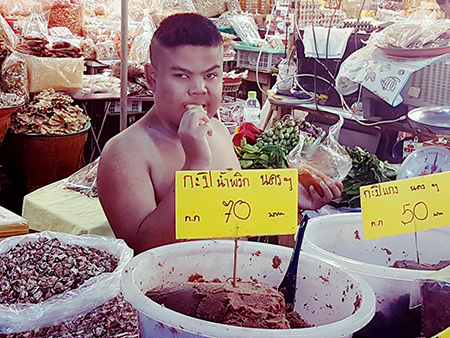 The second secret was a visit to the local market. With bracelets of flowers we return to our hotel. My husband and I know the alleyways of Christianity from birth, but we adored being shown how to offer with reverence amid burning incense, at the Mai Khao Buddhist shrine, on a little peninsular surrounded by lilies and water. Experienced travellers know the value of slowing down and drinking in a local experience with all the senses. There was no better way to bring our amazing stay at Mai Khao to a close.
Travelling south we continue on to another Anantara property. Layan Residences by Anantara is in another league: polished and understated luxury. Beyond the slatted guardhouse, a hairpin road leads up the hill. No cars here: electric golf carts dart around the bends, their mission to sustain the total comfort of guests.
Luxurious villas, discretely built, salute the bay from the hillside. From the highest properties, vast roof terraces look far over the peak of a small island into the Andaman Sea. Given the natural beauty and high quality of what has been built by Anantara, it's no surprise that the Group's founder and owner, William Heinecke chooses to have a house here. Visiting on weekends by private jet, he seeks peace and relaxation away from Bangkok, where he sits at the helm of 100s of hotel and other interests, built up through devoted work and a creative spirit, since the Sixties.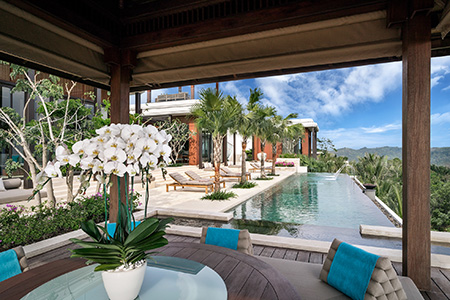 The edge of each villa's infinity pool can be seen on the hillside at night, for a fiery torch burns from dusk against the night sky, while beautifully lit palms and other trees mark the terraces and entrances. This is a development so 'in tune' with natural beauty, that the architect has built houses around a special tree in some cases, with the whole development looking as though it has always belonged in the curve of the hill.
Villas have 2 – 8 bedrooms. Each property has been equipped to client needs: some have a gym, a spa, a home cinema, multiple kitchens (catering and family), children's areas, a private cinema, a glass cased wine collection, elevators, and many other treats. Furniture has been designed exclusively for Anantara, to complement the warm and neutral colours which are 'low noise'. The villas (designed the late Jaya Ibrahim) may be special, but the service level on this hill is in a league we have never seen beyond the greatest private houses in the world: each villa has a cook, butler, maids and gardeners- a team discretely coordinated and trained to provide total relaxation for the most sophisticated and demanding of guests .
Our 1,895 thousand square foot property with 18 foot ceilings was stunning. My husband, who travels to some of the best hotels in the world on business, had just one comment as we toured the villa on arrival. 'Double-0 Seven'. Our stay was immaculately managed to the last detail by Khun Aom, who troubled in the background over our every need- drinks and food, security and safety, local trips and reservations. Any glitch was quickly and quietly corrected. For example, the warm rain one night had left a small pool of water on a terrace: it was gone within moments of being spotted. My husband's birthday during our stay was greeted with stunning flowers and other special treats: completely spontaneously.

The 3 bedrooms in our villa, all with huge and elegant bathrooms and walk-in wardrobes large enough for an army to camp in, meant that a party of 6 would have a very comfortable stay – the several floors and clever design of access making it possible for different generations to have their space by day and night, and the areas inside and outside suitable for gatherings of any size. Life at Villa Bangtao was so comfortable that we were tempted not to go out at all!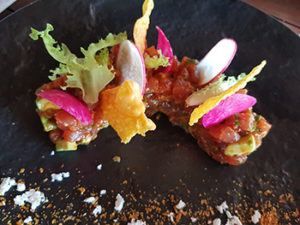 Below the hill, smaller garden villas are clustered around a sandy cove, with lush trees and orchids marking the pretty walks. Here there is a hotel with several elegant restaurants offering delicious food and a large choice or carefully selected wine from all over the world. The hotel is currently opening its own Zuma pop up for 3 months from 15 December which I was sad not to try (good excuse to go back though!).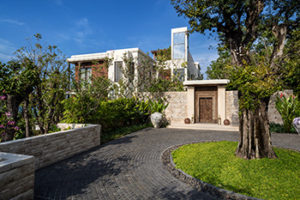 Our reaction to staying at Layan was alarmingly simple. We wanted a place of our own here. Of course, everything is possible with Anantara, and certain villas can be purchased, at $8-12m, depending on size. All staffing services and hotel amenities are available to owners, and properties can either be left neutrally decorated and let to other guests when vacant, or highly customised and kept exclusively private.
For those just looking for a wonderful place to stay and relax, with family and friends or on a romantic getaway, it would be hard to imagine more beautiful or better managed hotel and villa properties than Mai Khao and Layan, whether as a VIP in luxury on the hill, or closer to the beach in very comfortable villas or the hotel. In Thailand and elsewhere, Anantara is a hotel group quite simply at the top of its game.