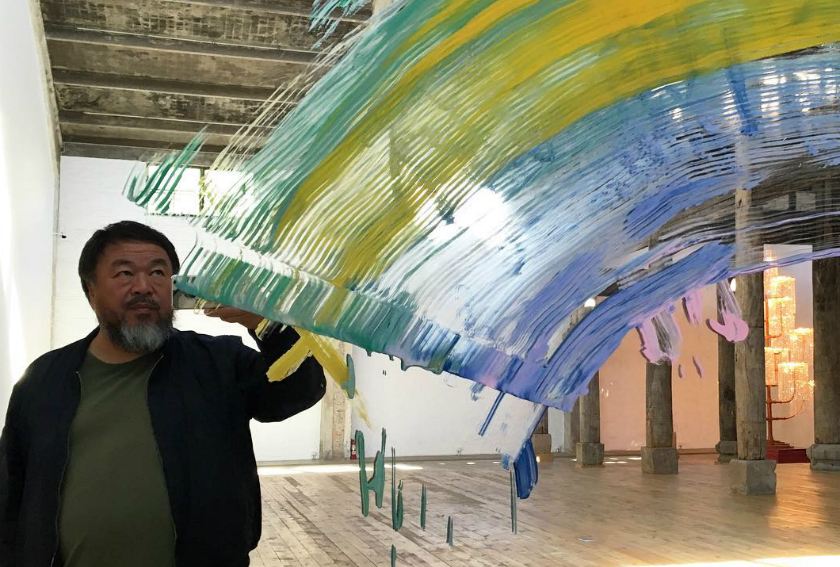 Political art dissident Ai Weiwei is one of the most talked-about artists on the planet right now. His retrospective at London's Royal Academy (RA), was dubbed the 'cultural event of the year'. It's taken blood, sweat and tears for Ai Weiwei to become the formidable artist he is today, but it's his bravery, uncanny talent and penchant for irritating China's political class that makes his work so important.
His opposition to the ruling Communist Party in China is not the best kept secret. In 2011, the Chinese authorities confiscated his passport and detained him without charge for 81 days. He found clandestine listening devices in his Beijing flat, which was quickly followed by the Chinese ambassador to Britain, Liu Xiaoming, saying Ai's work was "not my taste". It's widely believed the Chinese government just wants Ai to disappear… again!
It's very easy to get sucked into the Ai Weiwei versus China saga. It often attracts more interest than his art. But that's the thing, his run-ins with the Chinese government are intrinsically linked to his work, and it's difficult to imagine it existing without China's attempts to suppress it. Which made the exhibition all the more inestimable, as we don't know when he will be in the UK again.
It's the first time his art has been featured in the UK since 2010. Back then, his seeds installation at Tate Modern's Turbine Hall propelled him to the fame in Britain and infamy in China.
The RA's neoclassical halls are a challenge to fill and only a few artists – like David Hockney, Anish Kapoor and Anselm Kiefer – have been able to embrace the immensity of the historic space with success. But the visionary Ai Weiwei is more than capable of filling the space.
His retrospective spans a 22-year period starting from when Ai returned to China from the US in 1993, through his incarceration and into the present day.
Famous works like Straight – an installation of metal rods salvaged from the 2008 Sichuan earthquake that caused the deaths of 5,000 schoolchildren – are poignant and hard hitting. On display too are his contemporary works. All explore themes like freedom of speech, censorship and the autocracy of the Chinese government. One such piece is an elegantly carved marble surveillance camera, a comment on the omnipotence and voyeurism of China's governments.
Civil liberties like freedom of expression have come to define Ai's work – and by extension himself too. The RA's retrospective on the influential artist was undoubtedly the cultural exhibition of the year. It reinforced Ai as the most important Chinese artist of his generation, and someone who is trying to change the world for the better, one piece of art at a time.