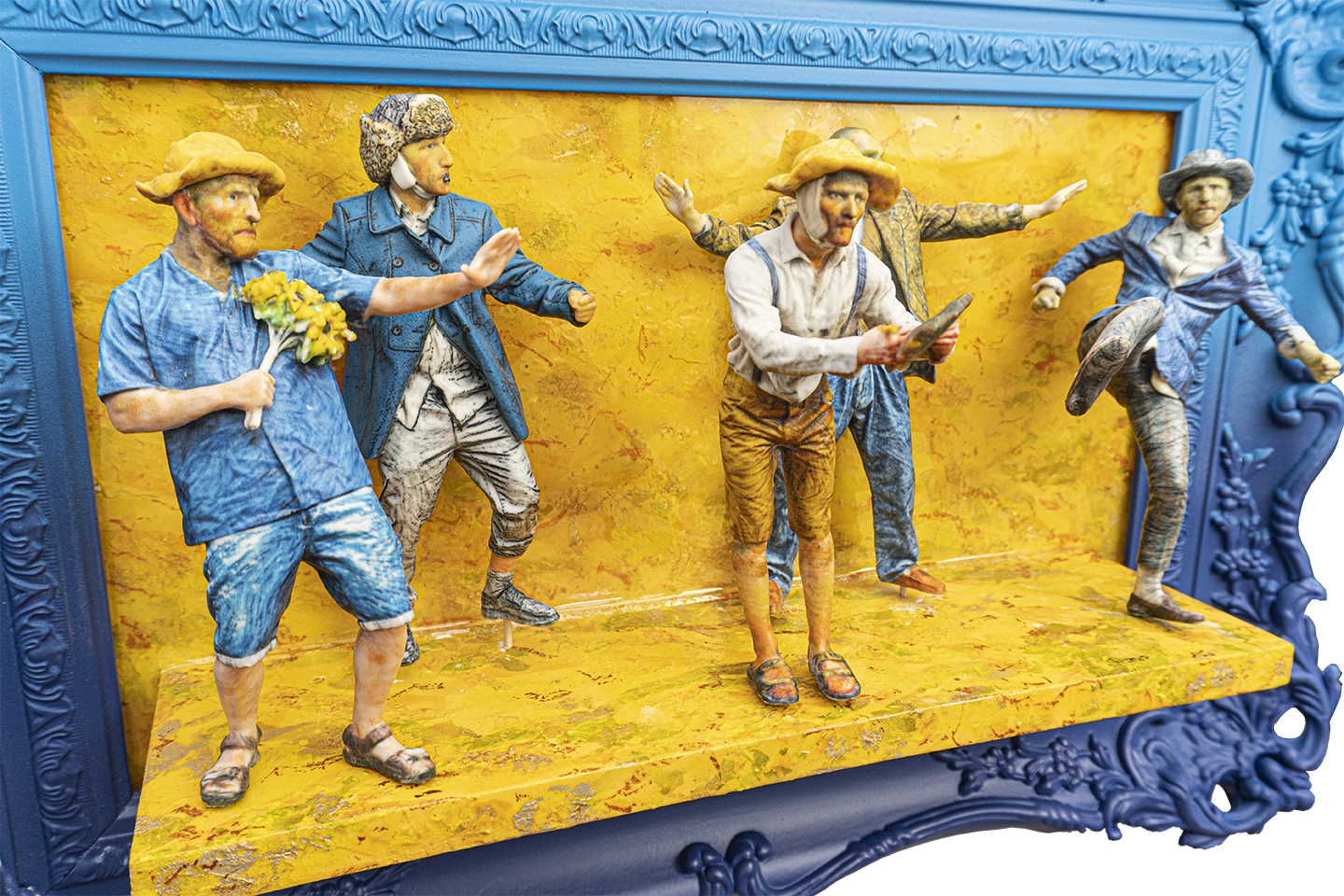 The London-based creative Daniel Warnecke combines the disciplines of sculpture, graphic design, and photography to create his unique 3D wall sculpture artworks. Raised in North London, Daniel attended the University For The Creative Arts in Rochester, Kent, where he graduated with a First Class BA (Hons) in Contemporary Photography in 2014. Daniel Warnecke's work takes classic portraits and gives them a thoroughly contemporary update. He restyles the subjects, making the Girl with a Pearl Earring a ripped-jean wearing millennial, while Thomas Gainsborough's Blue Boy becomes a tracksuited youth. But Warnecke doesn't just update the portraits' styles, he also updates their medium: The portraits are scanned by simultaneously using 240 DSLR cameras and 3D printed.
The Creator of 3d wall sculptures, submerged in resin, hand-gilded with holographic foil, silver, and gold leaf describes his work ethos as "when new technologies meet old" and answers Unity Magazine's questions.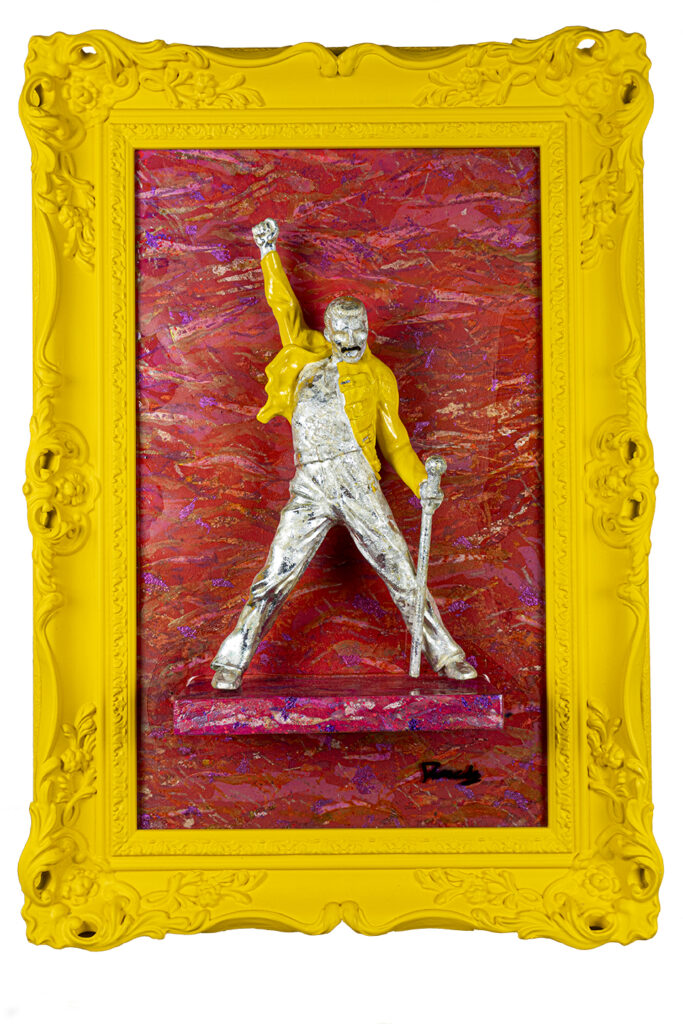 WHAT WAS YOUR INSPIRATION BEHIND YOUR DECISION TO BECOME AN ARTIST?
There are two main reasons I chose to become an artist. Firstly when I was in school I was always distracted in the classroom in lessons such as English, Maths all of the boring subjects etc, however, when studying creative subjects such as Photography, Art and Drama I was able to let loose and focus my hyperactive energy into something productive. Later on, in life, I found out I was highly dyslexic and dysphasic which added to my struggles. From a young age, I always knew I wanted to be making something, hands-on and getting messy! The second reason is because when I am in the studio and bouncing ideas around, testing new materials is the only time I feel really at peace and calm. My Dad, Gordon Warnecke is an actor and he has always told me to follow my passion and stay creative; never compromise that.
WHO IS YOUR GREATEST INSPIRATION?
I base my 3D walls sculpture works on artists and pieces, which hold great relevance into the history of art. I am always pulled back to and intrigued with the past, often using references from the master painter Van Gogh. I find his iconic painterly techniques and use of colour to be a great springboard for my imagination to travel.
After the success of my latest piece which includes five depictions of Van Gogh's' The Van Gogh Bunch' I am now developing a new series to explore this theme even further.
WHICH ART DO YOU THINK IS THE LEAST APPRECIATED?
I believe comic book art is under-appreciated the amount of skill and time it takes to create breathtaking panels and sequences is a huge craft I wish I could do. Alex Ross has always stood out as being a world-class artist for his drawings in books such as Kingdom Come and The Hulk.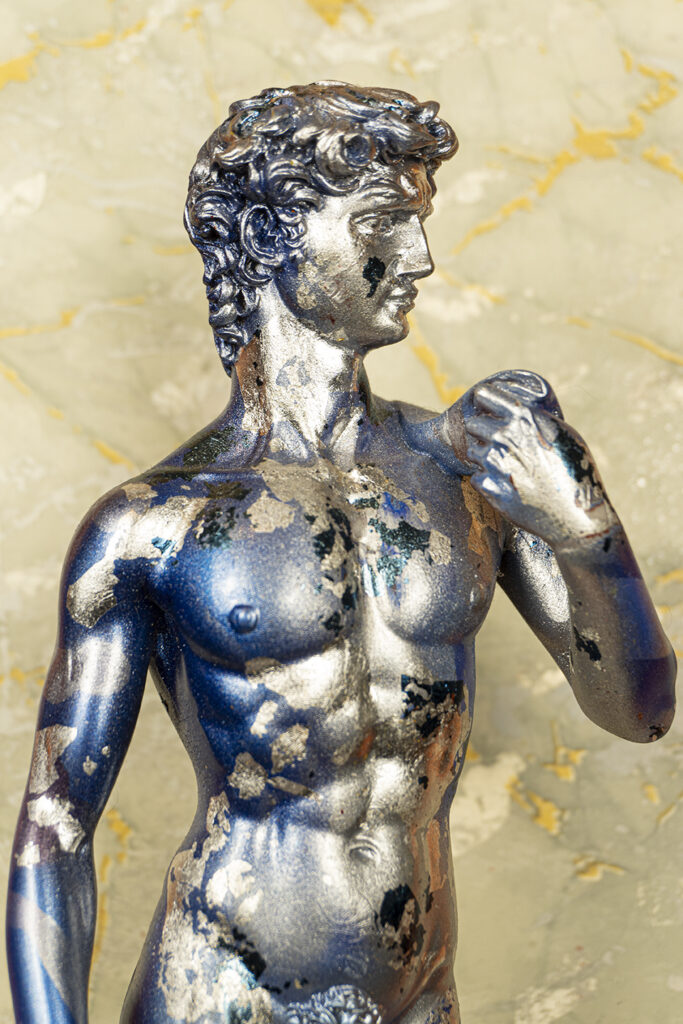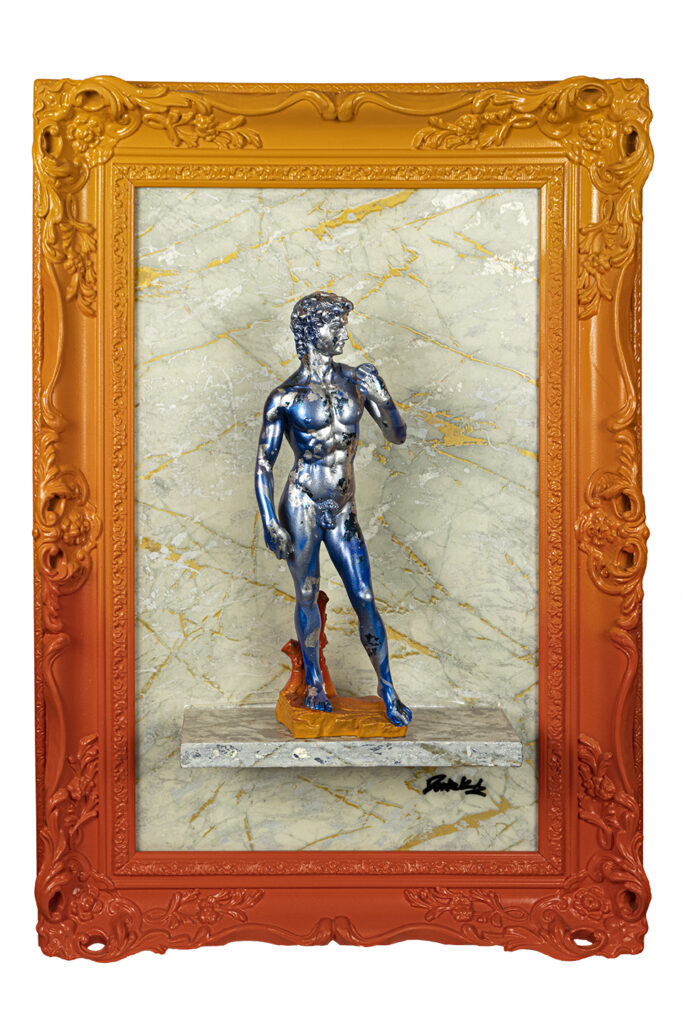 WHAT ELEMENT OF ART IS OVERRATED?
At the moment the current trend being NFT's there is a lot of hype going around the art world which has taken a sudden crash merger with the crypto space. I'm very happy digital artists are getting time to shine and get value in their sector. However, I do not think NFT's are tangible enough to hold up in your every day to day family homes. Until we can develop a fully realized virtual world that is completely immersive (Like Ready Player One) we will not begin to appreciate NFT's as the likes of conventional art practices.
IN ART, WHAT STEP DO YOU THINK IS LESS NECESSARY THAN ONE THINKS?
Out of all the artists I know including myself I think the least necessary part is having a clear picture of the final outcome. Too much planning can actually damage and limit the potential for experimentation. Happy accidents are always where the magic happens in the studio!
IF A GENIE WERE TO GRANT YOU ONE WISH, WHAT WOULD THAT BE?
It would be to travel back in time to 1999, February 4th, Hadley wood common, Hertfordshire. I would travel back like a rogue assassin Arnold Schwarzenegger style, hell-bent on stopping a travesty that was about to take place. It has been an event that set off a deep regret inside myself. It has only grown bolder and stronger inside me as time passed throughout my life. I would like to stop this life-altering event; I would travel back in time to stop my Mum ever selling my full collection of Pokemon cards for under 12 pounds at a car boot sale.
WHAT WAS YOUR LAST THOUGHT BEFORE YOU FELL ASLEEP LAST NIGHT?
I always go to bed with my last thoughts focused on gratitude for what has happened in the day and for what I would like to achieve the next day. Positive thinking people 🙂
WHAT IS THE FIRST THING YOU THINK OF WHEN YOU WAKE UP IN THE MORNING?
I am currently staying on a boat with the bathroom facilities out of action so I was praying for the rain god to stop raining so I could venture out to the harbour facilities!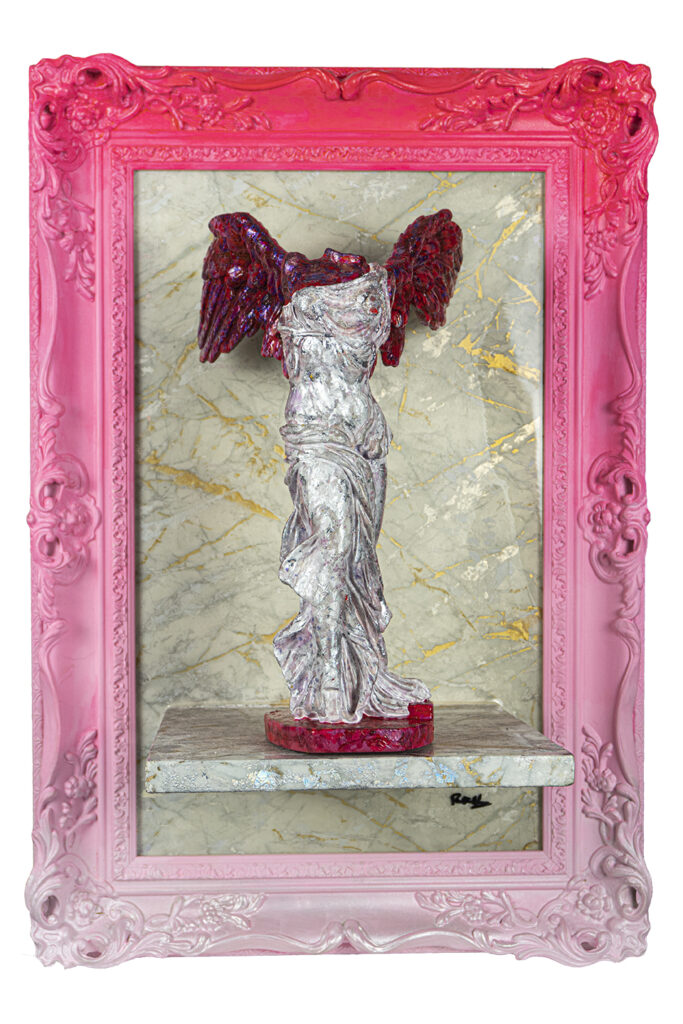 WHAT INFURIATES YOU?
Working in the gallery sector for seven years nothing grinds more gears more then an on looker commenting on a piece of art saying 'I could do that' or 'that's so expensive' I have channeled this annoyance into educating people into the processes behind the artists work, the concept and most importantly the time.
WHICH FICTIONAL CHARACTER DO YOU IDENTIFY WITH AND WHY?
Being a huge Batman fan I see myself as the Bruce Wayne of Notting Hill. VENGEANCE IS JUSTICE.
WHAT IS YOUR FAVOURITE PLACE TO HAVE LUNCH?
There is a fantastic authentic Italian restaurant just off of Portobello Road in west London called Mediterraneo. I recommend to any foodies out there to check out this place from the melt in your mouth burrata to the daily homemade calamari, which melts on the tongue this a hidden London jewel.
WHAT IS YOUR FAVOURITE SEASON?
I'm a big fan of the Halloween/Fire works night period. The sweet smell of open air fire the chilly air with a glass of mulled wine and a scary movie! Would take this any day over a beach sun bed.
MUSIC YOU LOVE?
140BPM the sound of London and of my generation GRIME, with a little bit of garage and 80's disco thrown in at parties. Grime music has played a big part in my creative process often playing very loudly in the studio the sounds of D Double E, Ghetts and Pmoney.
WHAT IS THE MOST USEFUL INSTRUMENT IN THE STUDIO?
The most useful instrument in the studio is newspaper! I often create a giant mess of glue, paint, resin, and all kinds of sticky liquids. I find it important to cover every service so you can be clean and tidy ready for the next day of creations!
WHAT IS YOUR GREATEST FEAR?
I have a huge fear of Ostriches their long necks really scare me. If I even see one on an advert my stomach turns.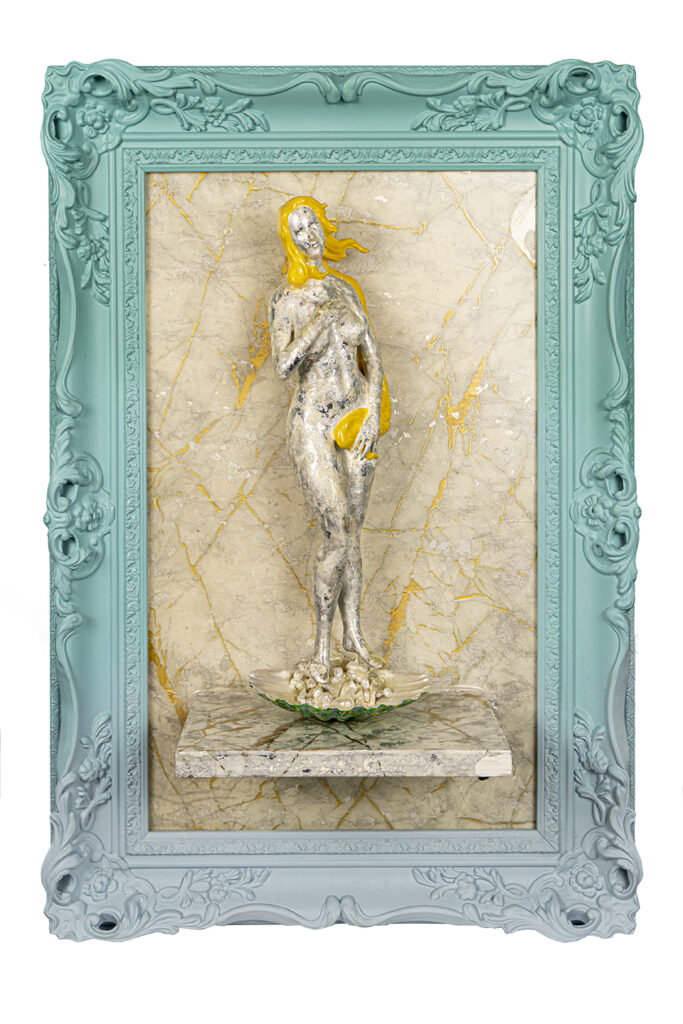 WHAT IS YOUR GUILTY PLEASURE?
Recently over lockdown, I have started binge-watching old 90's American drama shows such as The Oc, Desperate Housewives, and Gossip Girl…. Damn you Daniel Humphrey xoxo!
THE HOUSE IS ON FIRE, WHAT OBJECT ARE YOU SAVING?
Without a doubt I would have to save my Theiry Noir original canvas. He was the first artist to paint the Berlin Wall and I had the privilege to be his assistant for a year when I first left university. He gifted me with a bright pink iconic head canvas to say thank you.
WHAT IS THE HARSHEST CRITICISM YOU HAVE RECEIVED ?
The harshest critic I have had was 'my five year old son could do this'. I responded 'you have a very talented son'!
WHAT PIECE OF ADVICE WOULD YOU GIVE YOUR 20-YEAR-OLD SELF ?
To not be afraid to start a project thinking of how it will be received. The most important thing to do is just get started and enjoy the process everything else will work it self out.
WHAT IS THE MOMENT YOU ARE MOST EMBARRASSED ABOUT?
The first time I met my girlfriend's dad I was at a fancy restaurant and my trousers were too tight. I decided half way though the meal to undo my belt and buttons to offer some relief. To my dismay when I got to shake his hand at the end of the meal, my trousers dropped right down and my boxers were on show. As our hands connected mid shake, he gave a frightful look of disapproval.
WHAT IS THE MOMENT YOU ARE MOST PROUD OF?
I am most proud of achieving a first class BA hons in Contemporary Photography from the University Of The Creative Arts.
WHAT ARE YOU THINKING ABOUT THE MOST?
I am always jotting down ideas for the next piece, I have a lot of ideas for projects and artworks. I find it hard to work on one idea at a time.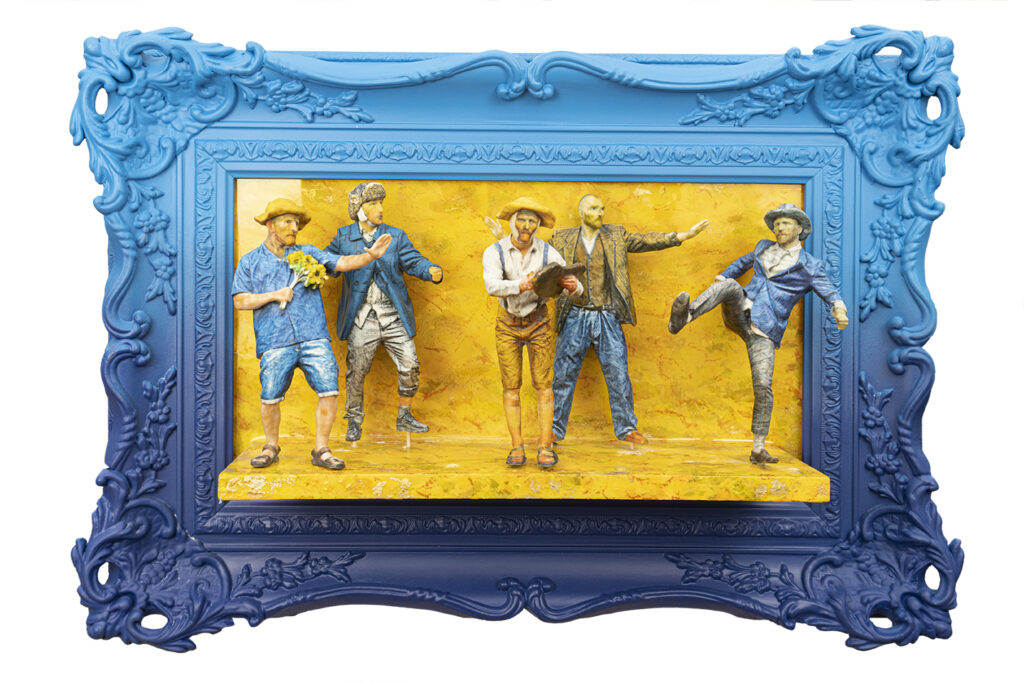 HOW OLD WERE YOU WHEN YOU KNEW YOU WANTED TO DO WHAT YOU ARE DOING TODAY?
I was 16 and had just achieved the photographer of the year award at secondary school, it felt good to be rewarded for my creative efforts.
ARE YOU MORE OF A POET OR A PHILOSOPHER?
I often think about space, UFO's and the endless possibilities of infinite universes so… philosophy?
NAME AN ACTIVITY YOU CELEBRATE EVERY DAY WITHOUT INTERRUPTION?
I am an avid video game player; I have always used games as a way of escapism. With adult life and having a three-year-old Cocker Spaniel, gaming can be hard. But I always try to get in at least one race of Mario Kart a day.
FAVOURITE BREAKFAST?
Dishoom does a scrumptious breakfast of naan bread which includes bacon, egg, and sweet chilly ham! This with a bloody mary is my go-to in celebration days.
SUCCESS IS?
Being happy in the moment and enjoying the ride just as much as the destination.
FAILURE IS?
Not giving it a go in the first place, putting off today what you could start tomorrow.
WHICH CHARITY DO YOU SUPPORT AND WHY?
Dyslexia And Me is the charity I would like to promote. I believe it is crucial for young people who have Dyslexia noticed early on. I struggled with subjects at school often being sent out of the classroom as I was frustrated. It is important that we give kids and adults extra support to help them reach their full potential. There are many great ways that can completely change the way someone with dyslexia learns: such as cool coloured gel overlays to help read the screen better to voice recorders you can write down notes verbally.
Daniel Warnecke's works are available to buy from the gallery at CharitableBookings.com.
edited by Lucy Self