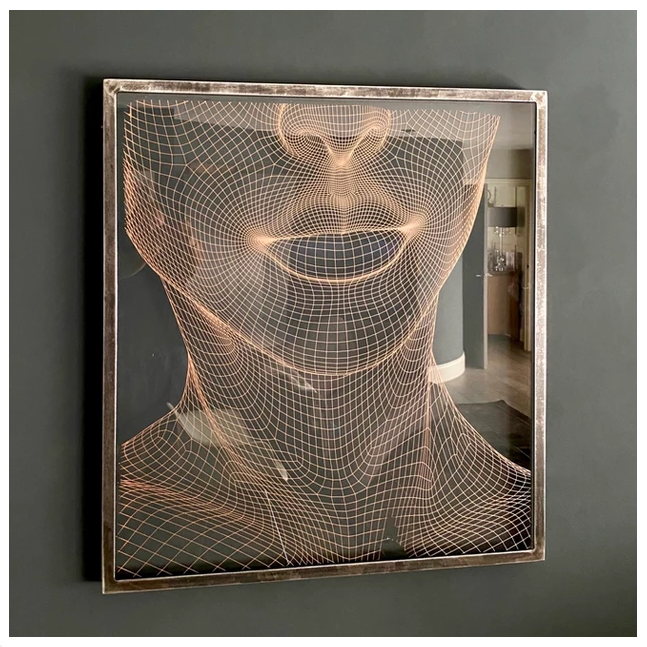 Jonathan Antony is an exciting contemporary artist based in rural Northumberland in the North East of England.
Inspired by Jackson Pollock his work derives from a design and build background, encompassing sculpture, architecture, and product design. Concrete, metal, glass, and ink are the 'go-to' materials that underpin the majority of his work. His developed aesthetic is made up of dark weighty tones bringing depth and distance to the images and the translucent quality of his medium. Accents of colour are skillfully used as compositional tools to entice the viewer to weave through layers and perspective.
The use of glass allows an ephemeral quality that captures the fugitive and elusive quality of his studies.
Unity Magazine looks into the mind and soul of the artist.
WHAT WAS YOUR INSPIRATION BEHIND YOUR DECISION TO BECOME AN ARTIST?
My career path has very much meandered around architecture and design. I think the words of Jackson Pollock confirmed to me that I have always had an artist soul.
"When I say artist, I mean the man who is building things, creating and molding the earth. It's all a big game of construction, some with a brush, some with a shovel, some choose a pen"
WHO IS YOUR GREATEST INSPIRATION?
My father was a hugely talented amateur artist. One of my pieces is titled 'Hyperphantasia' a word which I relate to my late father's ability. By that I mean if you asked me to draw a horse I could do a decent job from an image or seeing a horse in real-time, my father however could draw an amazing horse from the picture in his mind.
WHICH ART DO YOU THINK IS THE LEAST APPRECIATED?
I remember seeing the work of Rembrandt for the first time and thinking, everyone should be made to see this. Awesome!
WHAT ELEMENT OF ART IS OVERRATED?
At the end of the day, Art is an investment. That may be a monetary investment or simply an investment in your time to look at that art on a daily basis. Underrated or overrated is the subjectiveness of art.
IF A GENIE WERE TO GRANT YOU ONE WISH, WHAT WOULD IT BE?
There is so much not right with the world, I just wish that some of the people with the power to enact change could be a little braver with their decision-making; especially for the long-term health of the planet.
---
WHAT WAS YOUR LAST THOUGHT BEFORE YOU FELL ASLEEP LAST NIGHT?
I have a current piece titled 'Race for the Vaccine'. The original editions are hand screen printed directly onto large format glass. The piece is also being screen printed as an edition of 50 onto paper. Genuinely I struggled to get to sleep over the RAL Colour of the gold element.
WHAT IS THE FIRST THING YOU THINK OF WHEN YOU WAKE UP IN THE MORNING?
Usually the mundane aspects of an artists life such as deadlines and deliveries.
WHAT INFURIATES YOU?
Beautiful art on rubbish canvas.
WHAT MAKES YOU ANGRY?
Beautiful art in rubbish frames…..pimpmycanvas.com are amazing frames for a larger canvas.
WHICH FICTIONAL CHARACTER DO YOU IDENTIFY WITH AND WHY?
When I was young I somehow ended up in the National Youth Theatre, a fantastic experience. I vividly remember performing as Puck from Midsummer Night's Dream. To this day I can resight the words clearly. In my mind, I have always used Puck as a soundboard for certain decision-making. Bit weird really.
WHAT'S YOUR FAVOURITE PLACE TO HAVE LUNCH?
I am blessed to live in the beautiful county of Northumberland. The Boathouse at Amble harbour is very relaxed and fantastic for super fresh seafood.
WHAT ARE THE 3 THINGS THAT ARE ESSENTIAL TO YOUR DAILY LIFE?
Proper coffee, laughter, and most recently and bizarrely 'million-dollar listing', which triggers both the coffee and the laughter.
WHAT IS THE MOST USEFUL INSTRUMENT IN AN ART STUDIO?
Would not call it an instrument as such, but my slightly chubby chocolate labrador seems best placed at warding off unwanted distractions.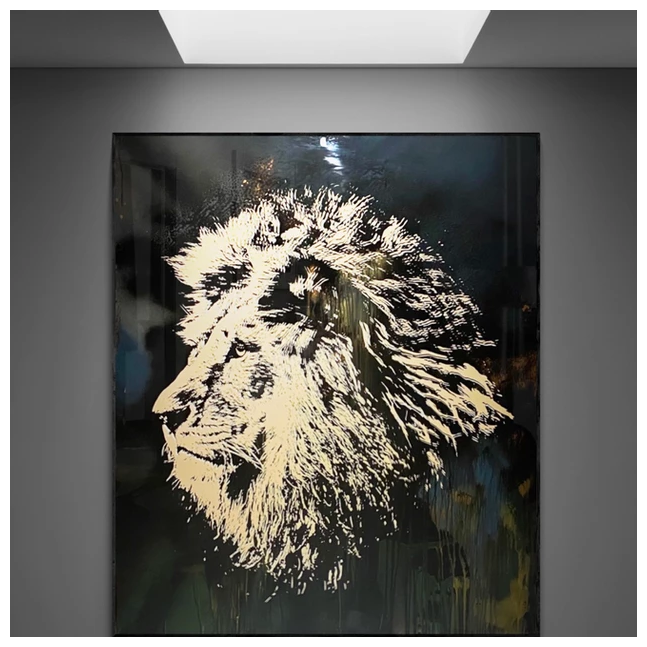 ---
WHAT'S YOUR GREATEST FEAR?
All of the obvious stuff as well as Newcastle United being relegated.
WHAT'S YOUR GUILTY PLEASURE?
Wine!
THE HOUSE IS ON FIRE, WHAT OBJECT ARE YOU SAVING?
That object would have to be my iMAC, grabbing as much of the wine collection in my other hand as the flames engulf.
WHAT'S THE HARSHEST CRITICISM YOU HAVE RECEIVED?
Mainly from astute immediate family members along the lines of, "don't really like that".
WHAT PIECE OF ADVICE WOULD YOU GIVE YOUR 20-YEAR-OLD SELF?
When I was 20 I met my future wife, 30 years later she is still my wife so enough said on that one.
WHAT IS THE MOMENT YOU ARE MOST EMBARRASSED ABOUT?
I was once commissioned to produce a Landmark sculpture to depict the heritage of North East mining. The piece featured stainless steel columns and polished concrete drill heads on a grand scale. Some months later I re-visited the sculpture with friends only to find the piece had been stoned and vandalised and was no longer the shiny unveiled monument I had last seen. I was mortified, however, as time has elapsed, the violations have actually given the piece some sort of on-going soul.
WHAT'S THE MOMENT YOU ARE MOST PROUD OF?
Daughters 1 and 2 in equal measure.
WHAT ARE YOU THINKING ABOUT THE MOST?
I love artwork with a story. My eldest daughter bought a Banksy book as a gift. It illustrated some of his lesser known works, very thought provoking and inspiring. Since reading that book I struggle to go through any single day without an idea for my next piece.
HOW OLD WERE YOU WHEN YOU KNEW YOU WANTED TO DO WHAT YOU ARE DOING TODAY?
If I am entirely honest I only became a full time artist in the first lockdown. Realising there may be a prolonged period of very little to do I hired a container for my garden and started to produce my artwork. Since then I have been fortunate enough to have sold pieces all over the world. That said I still feel uneasy about calling myself an artist, maybe a trainee.
ARE YOU MORE OF A POET OR A PHILOSOPHER?
Well I did once write a poem when I was younger and I was so proud of it. Then when we moved house I lost the notebook along with the said poem, I tried and tried to recreate the poem, however, it never quite seemed the same. So I am definitely a philosopher. 'He who writes his best poem……'
YOUR FAVOURITE TIME OF THE DAY?
That would very much depend on the day.
NAME AN ACTIVITY YOU CELEBRATE EVERY DAY WITHOUT INTERRUPTION.
A tiny little time to dream.
WHAT IS A WASTE OF TIME FOR YOU?
Obsessing in your own mind about your ability for any given thing.
FAVOURITE BREAKFAST?
We once converted a huge former pig farm with the intention of realising a huge profit. Unfortunately, the recession hit just as we put the property to market. In an attempt to salvage the situation we transformed the property into a B&B. My wife became Front of House and I became the breakfast chef. After a year or two of cooking full English breakfasts, I started to favour lunch.
SUCCESS IS…?
As an artist, it would be lovely to have professional recognition. That said to be content in your work-life regardless is a success.
FAILURE IS…?
Well I have definitely had my share of failures in a professional sense. Not recognising failure or not learning from failure would be the biggest failure.
HAPPINESS IS…?
Happy Family.
WHICH CHARITY DO YOU SUPPORT AND WHY?
Daft as a Brush, – Daft as a Brush Cancer Patient Care offers staffed custom-made vehicles to transport outpatients, free of charge, to and from the hospital who are undergoing chemotherapy and/or radiotherapy cancer treatment.
Jonathan Antony's works are available to buy from the gallery at CharitableBookings.com.
edited by Lucy Self