The founders of HEQTOR refer to it as the most luxurious baseball jacket in the world. When talking of luxury, the Heqtor brand certainly embodies all the qualities – with its formidable design, fine quality fabrics and couture cuts.
The brainchild of advertising duo Clemens Gerlach and Peer Hartog of German Advertising agency – Gerlachhartog, Heqtor was initially started as a fashion experiment, to see how a fashion brand could establish itself from scratch, without any previous heritage. Transforming itself into a luxury label via the amalgamation of great design, top-notch tailoring, strong branding and effective marketing techniques. To the duo's delight, the experiment worked and the Heqtor jackets developed a steady customer base to include celebrity supermodels, social media bloggers, musicians and football players.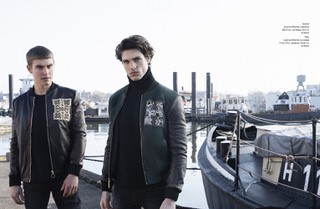 To kick-start the very first collection of limited edition baseball jackets, Gerlach and Hartog engaged the expert craftsmanship of German celebrity fashion designer Stefan Eckert, a former Central Saint Martin's College of Art, London – fashion graduate. Eckert who successfully runs his own luxury leather fashion label in Hamburg, Germany, honed his design skills working together with Alexander McQueen. Stefan Eckert, a couture fashion designer, uses only high-end luxury fabrics and combines these with his own distinct design signature that spells urban cool.
The name itself "HEQTOR" means to retain and redress, which perfectly fits the brand's desire to retain and reinvent such classic design pieces as the original baseball jacket, turning it into a coveted luxury fashion item. The HEQTOR initial collection focussed on the classic American baseball jacket, which originates back as far as 1865 with the original Harvard USA baseball athletes jacket. Ironically that also featured an iconic H, but H for Harvard, not Heqtor!
The Heqtor collection comprises of 20 key designed jackets – 8 men's and 12 women's and is limited to 500 pieces in total. Designed in butter-soft lamb leather and cashmere combinations, the exclusive eye-catching H-breast logos, bravely emblazon the jacket fronts – and were developed in collaboration with a renowned Swiss couture embroidery firm adding a very individual identity to each limited-edition jacket.
The magic of the baseball jacket for the HEQTOR brand lies in its very specific style and symbolism of a classic collector's timepiece.
To take the collection one step further and create their own signature collection, the duo Gerlach and Hartog recently launched a metamorphosis of the classic Heqtor jacket by creating the legendary baseball coat. The Heqtor baseball coat is the very first baseball coat on the market and features a glamorous hood. It is made of the same fine lamb leather and cashmere as the jackets and when launched – the coat collection sold out instantly.
Heqtor jackets are available online at www.heqtor.de and the new collection coats are available made to order.
edited by Melissa Gerlach