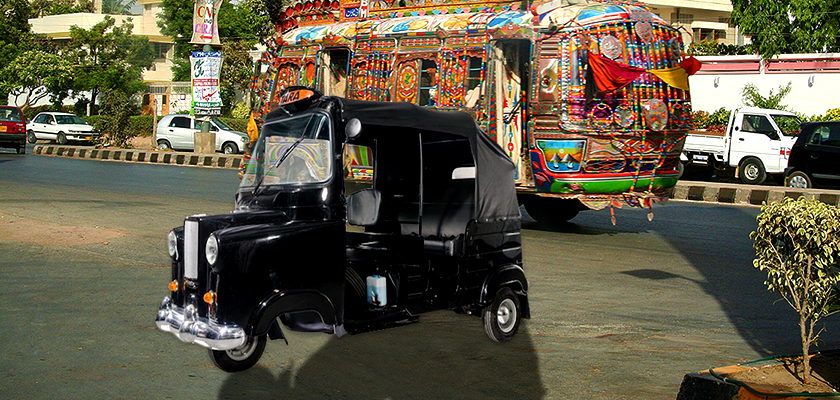 Celebrities and royalty from around the world took part in an epic rickshaw race across India to save Asia's endangered elephants, which have fallen by 90% in the past 100 years.
Actress Susan Sarandon, model sisters Amber and Yasmin Le Bon and Princess Beatrice of York all took to the wheel of fashionable and bespoke tuk-tuks.
Diane von Furstenberg, fashion house Mulberry and Carolina Herrera are some of the brands to apply their unique style to the colourful fleet of vehicles. From a pop art-inspired rickshaw with a fried egg print to a classic black cab pastiche, the luxury rickshaw armada was a one-of-a-kind collector's item – and was auctioned off after the race.
In total, 40 rickshaws travelled 500 km across the central Indian state of Madhya Pradesh, passing the erotic sculptures of Khajuraho and the famed tiger reserves of Bandhavgarh National Park.
The race and auction was part of the 'Travels to my Elephant' campaign. Organised by the charity Elephant Family and luxury concierge firm Quintessentially Foundation, and raised more than £1m.
The race follows in the footsteps of Elephant Family founder and adventurer Mark Shrand, whose rescue of Indian elephant Tara was detailed in his bestselling book 'Travels on my Elephant' – hence the name of the campaign.
Other notable individuals who took part in the race include eighth in line to the throne Princess Eugene and Quintessentially Director Ben Elliot. All participants raced in pairs and had to achieve a set fundraising target.
The campaign proved such a success Elliot has been inspired to follow up with further races with the proceeds going towards protecting elephant corridors, of which there are 88 in India, so they can roam and migrate freely between areas.